Dolphins vs Chargers game Summary

11/13/16

Grading the Dolphins

QB Ryan Tannehill was perfect, his 17 of 24 for 240 yards and 2 TDs (130 QB rating) doesn't do him justice. He was tough and got hit but stayed strong and made a few huge plays, including a 39 yard TD and a 56 yard game changer to Parker. He also ran for 18 yards on 3rd and 11 and led his team to a deserved win. You can't really ask anything more from him. A

RB The Chargers went all out against the run and were generally succesfull until Ajayi broke for a 40 yard gain. Damien Williams was huge scoring twice on a 2 yard run and an 18 yard perfect lob from Tannehill. Ajayi ended the game with 79 yards on 19 carries (4.2) B

WR They played well. Parker came alive for 103 yards on 5 catches and Landry also made great plays both catching and blocking. Stills had another long TD. B

OL That was tough, But they did a solid job. The Chargers did everything to stop Ajayi and the pass rush was also hard. Tannehill took hits but he held on as always. They stayed with the run and it helped. Albert left the game with a wrist injury but returned. B-

LB Kiko Alonso won the game with a huge 60 yard INT return for a score and the running defense was also solid all day. Alonso deserves an A all by himself, he started as if he is going to blitz then pealed off and stayed underneath for a perfect game winner. A-

DL The run stopping was great and the pass rush was also very active. Wake had 2 sacks and Suh was his usual self. Branch also is playing well and the unit welcomed back Earl Mitchell that had a great game and a huge 5 yard tackle for a loss when San Diego were at the Miami 2. A-

Secondary A mixed game. They had 3 INTs (Lippet had 2 and Maxwell had 1) but they also had countless penalties some of them on crucial 3rd downs. McCain would want to forget this game and move on. B+

Special teams It was a bad game For jakeen Grant with 3 fumbles. He nearly cost Miami the game when he lost a punt at the Miami 5. Darr had 1 great punt and otherwise was OK. Can't be turning the ball over on special teams. D

Coaching That was a great game for the coaches. They were ready, and the team was ready. The 18 yard TD was a great call and the entire game plan worked. If something doesn't work, Gase simply admits it and tries something different. He certainly looks like the real deal. A




On the 1st of November, 1970, RB Mercury Morris, gained a Dolphin record of 302 combined yards. He ran 8 times for 89 yards, received 3 balls for 68 yards and returned 6 kicks for 145 yards.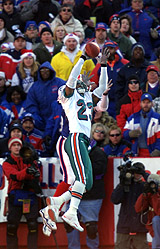 CB Patrick Surtain