Dolphins vs Chargers game Summary

12/20/15

Grading the Dolphins

QB Ryan Tannehill had another bad game. He had zero time to throw and his WRs didn't help much. He finished 20 of 34 for 216 yards no TDs and no INTs. Zero points and four first downs in the first half. Yikes! F

RB Lamar Miller had 9 carries for 12 yards. He had zero yards on first or second down and that's a problem. Ajayi played better but most of it was in garbage time. F

WR The Dolphins have one possesion WRs. You can't win with Landry as your only target. He had 8 catches for 54 yards, that's less than 7 yards a catch. Parker had a few good plays (4 catches for 87 yards), maybe he comes back next year without the injury and develops, maybe. F

OL Albert was injured when there was no backup on the roster. They tried Dallas Thomas at LT and he promptly gave up 3 sacks and he was the upgrade over Ulrick John. Then Pouncey went down and Douglas tried playing center. Awful game. F-!

LB The Dolphins don't have good LBs and we all know that. Maybe they keep Jenkins other than that I would be totally shocked if they don't address the position 2 deep in the off season. D-

DL The Dolphins have Suh. That's it. Maybe they can get by with Philips and Suh next year. The ends are a problem. OV isn't worth the money he wants and with all they troubles in the secondary, O-line and LBs can they really fix the line as well ? D

Secondary Rivers carved the awful defense. Jones is a good player but they really don't have another starting caliber safety, Grimes is declining and McCain is not ready yet. They chose 3 5th round players for the unit in last year's draft. You won't fix it with 5th rounders. Jamar Taylor probably can't wait for the coaching staff to change. F

Special teams When even Matt Darr is so and so you have a problem. Playing Reshard Jones in kickoff return is insane in so many levels. Risking an injury to one of your few good players, a player that really can't hold on to the ball and really is not very good retrun man is mind blowing. D

Coaching What were they thinking. They did not have a reserve tackle on the roster and when Albert got injured it became scary bad. The decision to have Jones return kicks is just playing russian roulette. The team had one of it's worse halves in recent memory. They looked like a high school team when playing against the team with the worst record in football. F




On the 1st of November, 1970, RB Mercury Morris, gained a Dolphin record of 302 combined yards. He ran 8 times for 89 yards, received 3 balls for 68 yards and returned 6 kicks for 145 yards.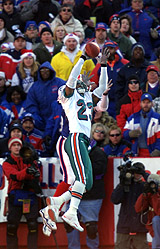 CB Patrick Surtain