Dolphins vs Chargers game Summary

2/11/14

Grading the Dolphins

QBRyan Tannehill played one his best games of his career. He finished with the highest rated game of his carrer in over 125 rating from his 24 of 34 for 288 yards and 3 TDs without an INT. He also ran for 47 yards on 4 carries including a 22 yarder. Perfect game. A+

RB Lamar Miller played a decent game. He had one drop and the runnig game in the second half was just garbage time. Miller was injured and left the game (11 carries for 49 yards and a TD) and was replaced by Thomas and Williams. B

WR Tannehill spread the ball to his different WRs. Nobody caught more than 5 balls. They did drop some passes, 2 in the endzone (Clay and Wallace). Clay had 5 catches for 65 yards and a score, Hartline had 5 for 50 and Wallace 3 for 50. Landry again played very well (5 for 46 and a TD). Matthews also scored with his lone 21 yard reception. B

OL The Chargers could not pressure Tannehill and could not get by the O-line. By the end of the 4th Brandon Albert was already resting and Jones switched to the left side. Dallas Thomas also played well for the injured Colledge. They had the best game I remeber the line having in years. Tannehill realy had all day to throw and he also had throwing lanes to look at his receivers (again and again). A+

LB Yes, having Koa Misi helps. They stopped the Chargers run game and held Antonio Gaates in check all day long. a perfect game for the entire defense. A+

DL Wake, Vernon, Starks, even Mitchell all had sacks and drive killing plays routinely pushing San Diego's O-line into Rivers affecting many of his throws. Just a great game by the entire unit. Vernon had a sack strip fumble which Odrick recovered. A+

Secondary The Dolphins secondary intercepted Rivers 3 times (Jones and twice by Grimes). Now, that wasn't Blake Bortles out there, it was a top 5 QB in the NFL that came into the game with a 109 rating and had a rating in the 30s. He also has excellent WRs and the Dolphins defense totally dominated the Chargers. To be honest it wasn't even close. Maybe Reshard Jones was right, he is playing like one of the best in the league and Grimes is a pro bowler. A brilliant game by the entire defense. A+

Special teams Sturgis missed another makeable 45 yarder. Landry was his usual self returning punts (the Chargers only kicked off once...). Landry was voted AFC special teams player of the month for October and plyed accordingly. Fields hardly needed to punt. B

Coaching Wow. Joe Philbin lost his father this week and was away from the team for two days but the game plan was brilliant. The team played one of the best game it played in years. A really llooonnnggg time. Perfect game, perfect coaching. Some people will second guess a few things but really ? 37-0 ?! A+




On the 1st of November, 1970, RB Mercury Morris, gained a Dolphin record of 302 combined yards. He ran 8 times for 89 yards, received 3 balls for 68 yards and returned 6 kicks for 145 yards.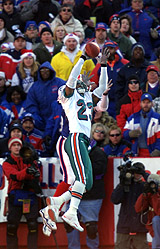 CB Patrick Surtain