Dolphins vs Steelers game Summary

10/16/16

Grading the Dolphins

QB Ryan Tannehill was great. Hw had time and the running game was great which opened up the play action game. Hew completed a beautiful 39 yard to Landry and even a better 53 yarder on a broken play when he somehow managed to stay on his feet. He ended up going 24 of 32 (75%) for 252 yards and some very good 3rd down throws for first downs. The offense did have 4 trips to the redzone that ended in 3 FGs and a blocked FG and that's something that usually comes back to haunt an offense. A-

RB Ajayi had by far the best game of his carrer and the best game a Dolphin RB had in the last 5 years. He ended up with 25 cariies for 204 yards and 2 TDs including the closing 62 yard TD. He played very well with good runs of 6,7,8 yards that made Miami get into good 2nd and third downs. He added 2 long runs (33,62) and 2 TDs. Just a perfect game for Ajayi. Good job goes also to the coaching staff that saw he was on a great game and kept feeding him the ball. A+

WR Parker was OK but dropped a 30 yard TD that hit him in the hands and Landry was his usuall fighting self (7 for 91 yards). A freat game by MArqueis Gray (3 for 81) who had that great 53 yarder. Did not quit on the play. Sims had a concussion and that's a problem. B-

OL Waht a difference a week (and two returning starters for the left side) makes.... The line looked totally diferent with Big Branden Albert and Tunsil. Even when the cramps started for James and Tunsil Steen and Urbick held their own for a few snaps. Interesting that when JAmes was out a couple of plays Bushrod moved to RT and last week the Dolphins did not try him at LT. Anyway, great pass blocking (ZERO sacks and almost no pressure) and great run blocking as well. What a difference. A++

LB The run stopping was better than expected. 138 yards sounds a lot but 60 came from one end around TD play. All and all they were OK. Butler and Hewitt are not downgrades from Misi and Jenkins. B

DL The run stopping was obviously better, Wake played more and it showed (je had 0.5 sack when they left him on a TE - big mistake by Pitt.). They could have played better against the pass but generally had a decent game. Branch and Wake played better than Williams and Jones did in the past. B

Secondary Maxwell can not tackle (and looks like he doesn't want to try) but he did have a few pass breakups, he played better - we have to give him that and the rest of the secondary somehow managed to stay with the Steelers WRs. Jones had a GREAT INT but was run over on the 60 yarder by Heywood-Bay, very strange. B

Special teams A bad game for anyone not named Darr. A blocked FG ??? and a miss FG ??? A bad surprise onside kick (called back because the officials were not ready - apparently Pittsburgh was). That has to be fixed. D+ (not including Darr)

Coaching That was by far their best game. Sticking with the hot hand (Ajayi) the play calling, the adjustments (Bushrod to RT when needed), It was just a great game for the coaches and a huge win. The team looked fired up. They enter the 2 most important games of the season, both must win games. Bills are VERY hot with 4 consecutive wins. They scored 45 on the Niners today... Good luck. A




On the 1st of November, 1970, RB Mercury Morris, gained a Dolphin record of 302 combined yards. He ran 8 times for 89 yards, received 3 balls for 68 yards and returned 6 kicks for 145 yards.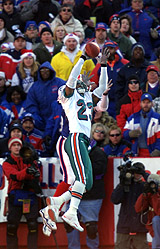 CB Patrick Surtain