Dolphins vs Steelers game Summary

10/24/10

Grading the Dolphins

QB Henne was OK. He had all kinds of time for most of the day but he mostly threw safe short passes even when you just have to take a chance (what good is a 2 yard FB throw when facing 3rd and 10 in 4 down territory at the end ? what was Polite even doing on the field ?) He finished with 23 of 36 for 257 yards a TD and an INT (that the officials imagined and should have been ruled an invomplete pass) C+

RB Ricky played well when they gave him the chance to run. Ronnie was awful against a very good Pittsburgh defense. 20 carries 62 yards combined is just not enough. D+

WR Brandon Marshall caught only 5 balls for 57 yards abd so did HArtline but he did fumble the ball that gave Pittsburgh their first TD. Bess had a huge TD and he finished with 6 catches for 66 yards. Fasano dropped the pass in the last series that could have made the Dolphins a first down on the way to a winning FG. B-

OL Henne had all day to throw. Really all day. The run blocking was another matter as Ricky and Ronnie could not find any space to run through. Carey was awful repeatedly getting beat by the Pittsburgh LBs. C+

LB They played a decent game but at the end they couldn't come up with the ball on Roethlisberger's fumble in the endzone. Dannsby is worth every penny of his huge contract. He is that good. B

DL It was a decent game as the Steelers could not run the ball all day. Decent pressure on Big Benn also helped. B

Secondary The Dolphins gave up a 53 yard TD and another 43 yard gain to Ward. The deep pass defense is just not very good. Last week it was Jennings and this week Mike Wallace. You can not give away TDs at tht rate. The safeties had a very nice game. C+

Special teams Pittsburgh averaged almost 29 yards on kickoff returns and they gave up the last FG all by their own the special teams is still an adventure play for the Dolphins but Carpenter and Fields are solid kicker/Punter combination. C

Coaching First, the officials blew the last call - obviously Miami recovered but then again I was yelling at the TV QB draw just like I yelled at the TV last week. For all the millions they are paid isn't it obvious opposing teams are going to QB draw the Fins until they stop someone ? The last series play calling was awful so was a pass on 3rd and 2 when Ricky was hot. The 4th and hald an inch at midfield punt was just scared play calling and gor the life of me I don't get the calling they last timeout after the officials called their own. Maybe if they had time to prepare a decent play on the last drive they would have gottena first down. They looked more interested in getting two plays of before the 2 minute warning instead of focusing on a first down. I just think this was a wasted game the Dolphins should have won. D-




On the 1st of November, 1970, RB Mercury Morris, gained a Dolphin record of 302 combined yards. He ran 8 times for 89 yards, received 3 balls for 68 yards and returned 6 kicks for 145 yards.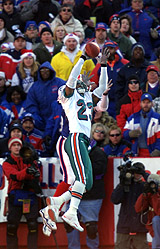 CB Patrick Surtain