Dolphins vs Eagles game Summary

11/15/15

Grading the Dolphins

QB Ryan Tannehill was OK. His numbers were also OK. He somehow managed to throw 2 TDs with no INTs and had a great 18 yard reception to Landry that pretty much saved the game for Miami. He was 21 of 36 for 217 yards. He had two long balls on short passes to Miller and Matthews that turned out to be long and Stills dropped a perfectly thrown long pass. He took some serious hits and managed to keep going. He did have some mistakes not recognizing the blitz. B-

RB Ajayi is plying very well (6 rushes for 48 yards). Miller was decent 16 rushes for 43 yards. He added 6 recptions for 50 yards including a 35 yarder and a 13 yard Td on a great Matthews block. B

WR The WRs were so and so. Landry had a huge 18 yard reception on third down late in the game and a freak TD off a deflection. He finished with 7 catches for 52 yards. Matthews again took a short pass and made it a big play (43 yards) that led to a Miami score. He finished with 5 receptions for 93 yards and the scoring block on Miller's TD. Jennings, Parker and Stills were invisible. Stills dropped a long ball. C

OL The Dolphins O-line played like the Dolphins O-line. They can not handlr the blitz and Pouncey gave up a huge sack that could have injured Ryan. The run blocking was average. Philly had 4 sacks including a sack-strip-safety. C-

LB The Dolphins missed tackles but were playing with 3rd stringers all game. Jenkins was out with injury and the Dolphins had to play with Hewitt, Hull and Vigil at times. CAn they cover a TE ? I don't think so. They did play better in the second half. C+

DL Suh gets an A+ all by himself. He was all over the field penetrating the O-line and disrupting everything inside. The problem are the other 3. They did pressure Sanchez at the end after Chris McCain sackes-stripped-injured Bradford. B+

Secondary It's hard when you have to play with 3rd stringers. Grimes was ill, Brice McCain got injured. The Dolphins played wwith rookie 5th rounder Bobby McCain, 5th rounder Tony Lippet and Zack Bowman to go along with Jamar Taylor. Aikens was also hurt. It's a miracle they played the way they played. The Eagles are not that good. Jones is the lone star of the group and made the INT in the endzone that won the game. Taylor also had a huge hit that saved the day. B+

Special teams Awful and good at the same time. Awful on kick returns (a 1 yard return !!!). Can't they just tell Williams to kneel down every kick when they know he has a problem catching because of a hand in injury. Landry's decisions are also awful (taunting penalty, letting the ball bounce inside the 10). Ther lone good was Zach Vigil's punt block that led to Miami's TD and comeback. C+

Coaching The clock management was much much better and the team did not break at 16-3. Good for them. They also had a ton of injuries on the defensive side and somehow managed. The season still looks lost. Dallas is up, Romo is coming back from injury. Talk about bad timing... B




On the 1st of November, 1970, RB Mercury Morris, gained a Dolphin record of 302 combined yards. He ran 8 times for 89 yards, received 3 balls for 68 yards and returned 6 kicks for 145 yards.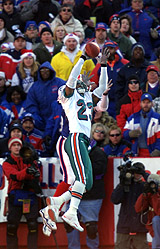 CB Patrick Surtain