Dolphins vs Raiders game Summary

9/28/14

Grading the Dolphins

QBRyan Tannehill was brilliant, no other way to put it. 23 of 31 for 278 yards, 2 TD and 1 INT (not his fault). He almost played a perfect game (missed a wide open Hartline) on an important early possesion when the Fins setteled for a FG. He also rushed 5 times for 35 yards and made terrific decisions. It helps to play against the Raiders... A

RB Lamar Miller played well (12 for 64 yards and 2 TDs). The Dolphins had 157 rushing yards. Miller did fumble on the Raiders 1 yard line. B+

WR It looks much different when they only drop 1 pass the entire game. Everyvody got in on the action with meanningful catches. Hartline led the way with 6 receptions for 74 yards, Wallace and Sims caught TD passes. A

OL The Dolphins ran the ball well and in most cases Tannehill had enough time to throw the ball. It was a solid showing by the O-line. They should get Pouncey back after the bye week and get stronger. Green bay with super pass rushers Clay and Pepepers are next... B+

LB Not much needed against the Raiders. Oakland is just a very bad team and it showed although they did give up a few runs and medium range passes on the Raider first drive. But overall a solid performance. B+

DL Shelby won't let Dion Jordan play DE... He is a solid player and had 2 sacks against the Raiders in his extended play (Wake was resting the last quarter). Fede got in the game on defense at the end of the game and the entire D-line really played well even without Randy Starks. Odrick also had some nice plays. A-

Secondary The Dolphins finally intercepted a pass... They had 3 between Grimes, Wilson and rookie S Walt Aikens. They also gave up a 2 TDs and that was to a combination of Derek Carr and McGloin. They face Aaron Rodgers next... B+

Special teams n average game for the special teams. Landry fumbled again and every punt return is now an adventure. You can fumble against the Raiders but you can not make those kind of mistakes against real opponets. Fields had only 2 punts (for a very bad 32 yard average) and Sturgis wasn't called to do much. Fumbles on special teams are huge. D

Coaching Let's not get ahead of ourselves, these were the Raiders. They are an awful team. If not for the Jags they will almost certainly be the worst team in the NFL and they probably are (at least the Jags have a promising QB). Having said that, they still played very well and totally dominated the Raiders in a must win game for them. The offense looked much better. Problem is they have two weeks to prepare for Aaron Rodgers and the Packers. A-




On the 1st of November, 1970, RB Mercury Morris, gained a Dolphin record of 302 combined yards. He ran 8 times for 89 yards, received 3 balls for 68 yards and returned 6 kicks for 145 yards.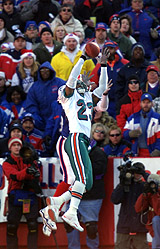 CB Patrick Surtain