Dolphins vs Raiders game Summary

11/28/10

Grading the Dolphins

QB Chad Henne was back starting and he gave the Dolphins the spark they needed. He looked injured and his mobility was zero but he threw the ball well, especialy when he had time to throw. He did throw one awful INT but other than that throw he played well finishing 17 of 30 for 307 yards, 2 TD and 1 INT. Considering the injury he had a great game. A-

RB The Dolphins just kept running and running and dominating the time of possesion until Ricky broke for a game sealing 45 yard TD run at the end. The numbers looked impressive - Ronnie 24 rushes for 85 yards, Ricky 20 for 95 and a TD. The Dolphins ran for 186 yards on 49 carries (3 kneel downs), They did not have the best average until Ricky broke the long one but they just kept coming including from the wildcat. A-

WR No Brandon Marshall but Davone Bess more than made up for his absense finishing with 6 catches for 111 yards and making first downs almost on every catch. Hartline was solid as well - 4 for 74 yards. Marlon Moore cught his first career TD, a 57 yard catch and run and even injured Roberto Wallace had a crucial 19 yard catch on third down. Cobbs added another TD catch. B+

OL The Dolphins just kept running even when it was tough and it paid off at the end, the Raiders D was exhausted at the end. They also gave Henne decent time inspite of the 3 sacks. When Henne has time he usually finds the open man. A-

LB The Raiders ran for 16 yards and 13 was a WR end around... The Dolphins run defense totally dominated the very good Raiders run game. TE Zach Miller had 1 catch for 6 yards. A

DL The run defense was fantastic, the Raiders had nowhere to run and they made plays in the Raiders backfield on a regular basis. Their names are not often called, but a great game for the entire run defense. A

Secondary Bruce Gradkowski is no Tom Brady but he can be dangerous. Aside for 2 long completions to rookie Jacoby Ford the Dolphins managed to maintain the Raiders on the road and that's a good sign. Clemmons and Bell had INTs. B

Special teams Every kick is still an adventure.... The Dolphins gave up a 101 yard TD on the opening kickoff. Even Brandon Fields did not beleive he managed to kick one of his punts... Bess had one great return of 47 yards but Carpenter missed twice altough both were 50 yarders but still, twice... D+

Coaching The score 33-17 really doesn't tell the real story. The Dolphins dominated on offense and defense (especially the run defense). The decision to go with Henne paid off and the wildcat was back out of necessity but it generally worked OK. The special teams is still a problem and again too many FG instead of TDs. I also didn't like the Dolphins playing ultra super conservative up by 9 in the 3rd quarter. They did throw a long ball (to Moore) on 3rd and long instead of getting closer for a Carpenter FG which he ended up missing. A-




On the 1st of November, 1970, RB Mercury Morris, gained a Dolphin record of 302 combined yards. He ran 8 times for 89 yards, received 3 balls for 68 yards and returned 6 kicks for 145 yards.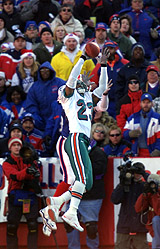 CB Patrick Surtain