Dolphins vs Jets home game Summary

11/6/16

Grading the Dolphins

QB Ryan Tannehill was OK, he was fortunate in one horrible throw (the defender dropped the INT) and he missed a few long ones but he was OK and led the team to a victory and that's what counts. He finished 17 of 28 for 149 yards for 1 TD. C+

RB It's almost impossible to run against the Jets but the team stuck with it and it paid off at the end. He finished 24 for 111 yards and a TD. A very good effort. B+

WR They did not do much the entire game, backup TE Dominique Jones played very well and scored. C

OL That was tough, But they did a solid job in pass protection and they were OK at times against the run. B-

LB The run stopping was up and down, Kiko Alonso has really upgraded this unit compared with last year. C+

DL The run stopping was obviously OK at times and the pass rush was there when mattered. Suh had a sack and Wake had 2 with 2 fumbles. Jordan Philips had a highlight reel INT. A-

Secondary The pass defense survived, that's about it. Maxwell was beat at times and the Dolphins really need to be get better. B-

Special teams It was a bad game and a good one all at once. A muffed punt and a kick return TD all in one quarter of play. B

Coaching That was a good game for the coaches. They were ready, and looked good at the begining, stuck with the plan of running even if it didn't work at the begining. B+




On the 1st of November, 1970, RB Mercury Morris, gained a Dolphin record of 302 combined yards. He ran 8 times for 89 yards, received 3 balls for 68 yards and returned 6 kicks for 145 yards.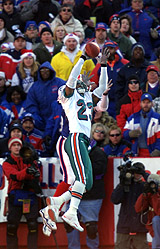 CB Patrick Surtain