Dolphins vs NY Jets London "home" game Summary

10/4/15

Grading the Dolphins

QB Ryan Tannehill followed one of his worst games ever last week with another bad game. In the few seconds he had to throw his WRs did not help much. He was 19 of 44 for 198 yards with 2 TDs and 2 INTs but the stats lie. He was worse. The Dolphins had eight consecutive goal to go opportunities in order to try to get close and failed on every single one. F

RB Running game ? What running game ? The Dolphins had 59 yards rushing, including 29 by WR Jarvis Landry. Miller had 7 rushes for 26 yards... Really. F

WR Matthews caught his only pass in garbage time. Parker had ZERO receptions and even Landry only had 4 for 40 yards. He should have had a TD if not for a bad call by the refs. Stills had one decent catch and finished with 5 receptions for 81 yards. Apparently Greg Jennings is still on the team and had 3 catches for... 15 yards. F

OL The Dolphins O-line is a just awful, and that's with 9 million a year 1st round LT (that did not play again), a first rounder playing RT and the highest paid center ever (also a 1st round pick). Just awful run blocking to go along with even worse pass blocking. F

LB LBs ?? The Bills ran for 206 yards. Let that sink in. It's not like the Jets have a QB QB to worry about. F

DL Suh is actually being double covered most of the time. The problem is all the rest invisible linemen. Obviously ZERO sacks. Vernon in a Cntract year ? really ? F

Secondary They were playing against Ryan Fitzpatrick. He's a genius Harvard graduate but there is a reason he is on his sixth team. He is not very good, unless he plays against the Dolphins. Marshall had 100 yards in one half... F

Special teams Thank god for Matt Darr! and Landry's relentless desire to gain more yards. This unit is the only unit actually playing decent football. Problem is Special teams can not play defense or offense.... C+

Coaching There is a decent chance someone is fired after this game. I know it's only week 4 and there is no one to promote to head coach (both coordinators look awful) but the coaching (and front office by the way) is just inexcusable. The talent is not that bad. Belichick would have made this talent playoff bound easily. F-!!!!! That's an additional F for "Fire somone"




On the 1st of November, 1970, RB Mercury Morris, gained a Dolphin record of 302 combined yards. He ran 8 times for 89 yards, received 3 balls for 68 yards and returned 6 kicks for 145 yards.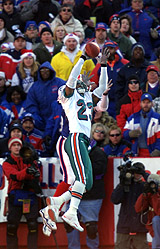 CB Patrick Surtain