Dolphins vs NY Jets home game Summary

12/28/14

Grading the Dolphins

QBRyan Tannehill was decent. He did not have time to throw and showed (again) he is very tough. He was sacked (7 times!), knocked and hurried and got up. He became the 2nd Dolphin ever to throw for 4000 yards in a season and his TD to Clay ended up being his 27th TD of the year. He was 23 of 39 for 259 yards and a TD. He played well considering the pass protection he had. B

RB Lamar Miller had his best game of his career with 178 rushing yards on 19 carries including a 97 yards TD run which was the longest offensive play in franchise history. Daniel Thomas carried once for a 1 yard TD. A+

WR Hartline played the best game of his awful 2014 season leading the way with 5 catches for 94 yards. It was the only game of the year where Wallace did not catch a single pass. Landry and Clay both had 5 catches and Clay also had a TD. B-

OL The Dolphins O-line was awful pass blocking (or "pass blocking" is more appropriate). The Jets had 7 sacks and countless hits and hurries on Ryan. If not for Tannehill's toughness any other QB would not have finished this game. It was that brutal. The run blocking was OK and helped Miller get to his record day although it was mostly Miller's game that was the dominant in his big day. D-

LB The Dolphins gave up 37 points to Geno Smith and the Jets. 37 points! Enough said. I would very very very very surprised if Wheeler comes back next year. At least 2014 produced a solid starter in Jenkins for the next few years. D

DL The Dolphins only had 1 sack against Geno Smith and the run blocking was OK, not more than that. Wake looks tired and the line looks like it's no longer the strength of the team. D+

Secondary Awful. They gave up almost 400 yards to the Jets! 221 of them to Eric Decker. Geno Smith was 20 of 25 for 358 yards, 3 TDs and a perfect 158.3 QB rating ! Really it's true. Finnegan looked lost and slow and the entire secondary looked like they need the off season (I'm guessing half of the starting secondary won't be back next year). The CB is a major need for the Dolphins. Just an awful game. Geno Smith with a perfect passer rating !?!? 37 points to Geno Smith !? F!

Special teams The Dolphins gave up a 87 yard Kickoff return and missed a FG. Landry also had a very bad return to stasrt the game (Fins started at the ten). How much more do you need to hear. F

Coaching The Dolphins should have at least played for a winning season and they blew it at home against an awful 4 win Jets team. Geno Smith having a perfect game ?! really ?! It's ridicolous that Rex Ryan is expected to be fired and Philbin survives another year because the Jets really don't have anything of offense. I know it doesn't matter the record when you miss the playoffs but having a winning season would have been nice. D-




On the 1st of November, 1970, RB Mercury Morris, gained a Dolphin record of 302 combined yards. He ran 8 times for 89 yards, received 3 balls for 68 yards and returned 6 kicks for 145 yards.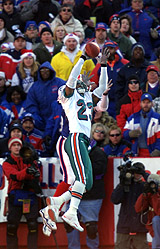 CB Patrick Surtain