Dolphins vs Jets game Summary

9/26/10

Grading the Dolphins

QB Henne threw for a career high 363 yards on 26 of 44 with 2 TDs and his first INT of 2010. 21 of his completions were to WRs and very few check downs. He did miss a few times opportunities to run for a first down. A solid game albeit in a losing effort. The fade throw is just not working. B+

RB Ricky almost fumbled again (he recovered his own fumble once and was down before the ball came out once). Ronnie was also very quite as the Dolphins concetrated on the pass much more in this game. They combined for only 72 yards on 18 cariies. C-

WR Brandon Marshall is the offense. He had 10 catches for 166 yards and a TD. He also draws double teams and that makes Bess (6 for 86) and Hartline (5 for 84) much better. Fasano caught a nice TD. I still think they should have thrown to MArshall at the end no matter how many Jet were covering him, he is just so good. A

OL Henne had time to throw most of the time but the run blocking did not open up many holes. Jake Long is clearly way better than all of the rest of the O-linemen. A few penalties really hurt the team. C-

LB It wasn't a good game for the defense. There was no pass rush all game long. Misi's name wasn't called even once and Dobbins is just not playing well. Crowder was missed. Dansby was the only one having a decent game. Wake was up and down all game. Sanchez threw for 3 TDs and the Jets ran when they wanted - that's not very good. D

DL The D-line did not do a very good job stopping a-million-year-old Ladanian Tomlinson (15 rushes for 70 yards). The Jets ran for 146 yards and this was no Adrian Peterson back there. ZERO sacks or pressure for that matter and Langford dropped a sure INT. D

Secondary Just an awful day all around. Allen failed on numerous plys allowing way too much for the Jets and making penalties. Davis was invisible. Clemmons added anoher drive saving penalty and even Bell missed on some tackles. Really, Sanchez (15/28, 256 yards, 3 TDs, 0 INTs) is not that good, he really isn't. F

Special teams They are by far the worst unit on the team. The coaching staff pretty much gave up on the return game as it looks like they are playing in slow motion. A Jet takes a kickoff 4 yards deep and finishes an average return outside the 30 meanwhile pedestrian looking Cobbs takes a kick at the 4, encounters would be tackles at the 15 and barley makes it to the 23, that's the typical difference. Add to that a block punt deep in Miami territory on a missed assignment and a 54 yard Jets return and the grade pretty much writes itself. F

Coaching A bad game all around. As I said the special teams looks awful and even worse it realy doesn't look like they are trying. I meana block punt in a crucial division game and a 54 yard return to WR Brad Smith (a college QB), it's not Leon Washington back therr returning kicks for the Jets. The usual conservative approach gave way to a pssing game plan but I never understood why in the opponets 40 when it's 3rd and 2, why not look at it as a 2 down opportunity and run for a first down instead of an incompletion and a punt. It was by far the biggest game of the year. Now they have to win in NY and that's much harder to do and plus they are in a must win situation against the Pats at home next week because 2 division HOME losses could be as close to a knockout as you can get this early in the season. D




On the 1st of November, 1970, RB Mercury Morris, gained a Dolphin record of 302 combined yards. He ran 8 times for 89 yards, received 3 balls for 68 yards and returned 6 kicks for 145 yards.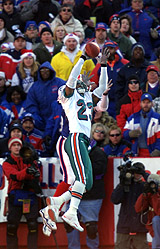 CB Patrick Surtain