Dolphins vs Giants road game Summary

12/14/15

Grading the Dolphins

QB Ryan Tannehill had a decent game but he missed the last throw to Landry, the Phins punted and never got the ball again. He was 25 of 41 for 236 yards and a TD. He also ran for 24 yards. B-

RB Lamar Miller had a good game and a brillinat 38 yard score. He finished with 12 rushes for 89 yards and 2 TDs. He had most of his runs in the first half and the Dolphins offense did play better in the first half. B+

WR The Dolphins had 1 receiver. Matthews is still injured and Parker did not play well at all on prime time. Landry caught 11 passes for 99 yards. He now has 89 on the yeasr and he will break OJ McDuffie's franchise season record of 90 next week. He also is 80 yards shy of 1000 for the year. Stills had a nice 47 yard TD but other than that was quiet. C+

OL The Dolphins O-line blocked well in the running game and they were decent in the passing game. Tannehill was sacked only once but the team lost. C+

LB The Dolphins don't have very good LBs and we all know that (but we also knew that last year...). A major change will come in 2016. D+

DL The Dolphins patched up MASH unit played OK. Suh is a difference maker. He changes plays but he is the only one on the D-line you really have to take into consideration is almost always double teamed. The Dolphins had ZERO sacks. C

Secondary Manning was 27 of 31 for 337 yards, 4 TDs (including an 84 yarder) and zero INT - Ouch! The secondary is a mess. Jones is a pro bowl player but other than that... There was a miscommunication on the 84 yard TD but you have to remember Odell Beckham Jr. is not only their best WR, he is their one one as well. Maybe instead of putting Grimes on him you should have Grimes covering their number 2 and double team Beckham all day. The first strategy did not work (Beckham had 7 receptions for 166 yards and 2 TDs...) F

Special teams When Matt Darr id the best player on the team... At least keeping the rookie was a good decision... B

Coaching The Dolphins are in dissary. The Giants and not a very good team, they really aren't. They have a bad defense and no running game. They had one good WR and a very good QB. It was enough to beat the Dolphins on the road. 3 games reamin in this nightmare season. D




On the 1st of November, 1970, RB Mercury Morris, gained a Dolphin record of 302 combined yards. He ran 8 times for 89 yards, received 3 balls for 68 yards and returned 6 kicks for 145 yards.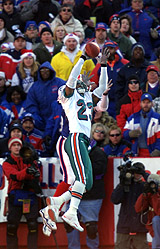 CB Patrick Surtain