Dolphins vs Patriots home game Summary

1/1/17

Grading the Dolphins

QB Matt Moore was OK but he showed on his lone INT why Ryan is starting, he threw on the run a very bad pass. Ryan is much better throwing on the run and he usually doesn't make those mistakes. He did bounce back with 2 TDs and looked OK the rest of the game. He was not sacked even once. His numbers: 24 of 34 for 205 yards, 2 TDs and an INT B-

RB The Patrios came in with one mission - stop Ajayi. Ajayi ran hard and did a decent job against the 8 men fronts (16 rushes for 59 yards). He finished the season with 1272 yards, ranked 3rd all time in franchise history behind Ricky Williams' 2002-3 seasons. Damie Williams had a bad game and lost a fumble near the Pats endzone that ended Miami's chances. Drake looks promising for next year. C-

WR Landry caught 9 passes for 76 yards and a score and Stills added his 9th TD of the season. Parker was quiet (5 for 45) and the TEs didn't do much. B-

OL They could not open lanes for Ajayi but the pass blocking was OK. An average game against a team they can not beat being average. C

LB The Dolphins LB are a liability and that's nothing new. Hewiit started for Jenkins but this unit can not compete with the Patriots. The Dolphins really can not stop the run. LaVeon Bell is next... D+

DL Zero sacks against Brady is not a good start. Jordan Philips had a very good game but other then that it wasn't very good for everyone not named Suh. D+

SecondaryWith 3 out of 4 starters out there is a limit on what you can expect from them. A bad tackle resulted in a 77 yard TD by Edelman that sealed the game. Praying Maxwell is back for the playoffs. D+

Special teams A very quiet day although Darr had a bad game which is very unusual. Other than that - just average. C-

Coaching They decided to play their starters. They did the best with many injuries and a look ahead to the real game next week. This game was bad but a terrific job on the season. Who knew coaching can make that much of a difference. Miami's roster in 2016 wasn't better than 2015 - the result is wildly different. B




On the 1st of November, 1970, RB Mercury Morris, gained a Dolphin record of 302 combined yards. He ran 8 times for 89 yards, received 3 balls for 68 yards and returned 6 kicks for 145 yards.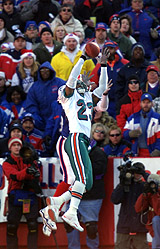 CB Patrick Surtain