Dolphins vs Patriots home game Summary

1/3/16

Grading the Dolphins

QB Ryan Tannehill was great in his last game of the year finishing with 350 yards (going over 4200 for the year). He was 25 of 38 with 2 TD. He did find Parker a few times in a promising connection looking on to 2016. B+

RB Lamar Miller had 19 carries for only 60 yards and 29 of them came on 1 run. It wasn't a good game for the running game although they did try to stay with the run. Miller finished the season with under 900 yards as he becomes a free agent in the off season. C-

WR DeVante Parker had his first career 100 yard game as he finished with 5 catches for 106 yards including a TD. He was injured for most of the year but looked very promising in the last game of the year and left high expectations that with a good off season he can be a factor in 2016. He certainly looks the part of a number 1 WR as envisioned by the team when they made him the team's number 1 pick in the 2015 draft. Jarvis Landry added 6 more catches to finish with a franchise record of 110 catches on the year. A

OL Tahnk god this season is over. The patched up offensive line managed to keep Tannehill alive and that's enough. C

LB The Patriots did not seem interested in this game at all and thought they could win whenever they wanted, it did not work out for them. The Dolphins will absolutely need to do something about their LBs, really. C+

DL Suh and Vernon had 0.5 sacks and Shelby added another sack. They did put enough pressure on Brady for him to get upset aand almost injured. They did OK stopping the run as well. It might have been Olivier Vernon's last game as a Dolphin. B

Secondary They Pats did not want to pass the ball in the first half and risk Brady. They did try in the 3rd quarter but the Dolphins secondary was actually ready in this meaningless game. B

Special teams Matt Darr is serios consideration for team MVP. That says a lot about the season. B

Coaching Dan Campbell's last game in Miami (I don't see him getting the job full time) was a pleasent surprise that hurt Miami's draft stock (they went from 5th to 8th - ouch). It was a nice meanningless game to end an awful season. B




On the 1st of November, 1970, RB Mercury Morris, gained a Dolphin record of 302 combined yards. He ran 8 times for 89 yards, received 3 balls for 68 yards and returned 6 kicks for 145 yards.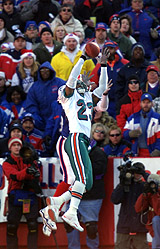 CB Patrick Surtain