Dolphins vs Patriots game Summary

9/7/14

Grading the Dolphins

QBRyan Tannehill was decent but his accuracy was off especially in the first half, he missed a few open WRs and sometimes te pass was completed but the throw was so off it resulted in an immediate tackle (or fumble) instead of a long gain, he did have a few drops on him by Wallace, Landry, Sims and even Clay. He finished 18 of 32 for 178 yards, 2 TD and one awful INT where Wallace was open for a TD and he underthrew him. He was better in the second half leading the offense. B-

RB WOW ! Knowshon Moreno !! A legitimate NFL starter and a very good one. He played on a mission, beast mode, I haven't seen such runs since Ricky left. He broke countless tackles and played with a conviction that got everyone on board. He was by far the best player on the field. He had 134 yards on 24 carries witha TD. He was first tackled at the 8 yard line on the TD and managed to get in for the game clincher on pure will power. Miller added 59 on 11 carries but fumbled the ball away. Moreno deserves an A all by himself so we can't knochk the grade down because of the Miller fumble. A

WR A decent game. They made som very nice catches on sometimes average throws but then again there were drops, Sims dropped a tough but catchable TD, Wallace and Landry had a drop nd even sure handed Clay could not catch a catchable pass. Wallace led the way with 7 catches for 81 yards and a great TD which was all him. B

OL They gave up only 1 sack on a deayed rush and generally gave Tannehil time to throw. THey also blocked very well for Moreno and Miller. A huge upgrade over last year. Can they keep up against Buffalo's monster defensive line like they did against Wilfork and the Pats ? We'll find out soon. B+

LB Wheeler missed the game and Misi and Ellerbe were lost for the game very early, so basically they played with 2 or 3 backups against Tom Brady and Gronk. Good luck.... They actually played well... Who would have thought... THis was Tom Brady over there. B+

DL Cam Wake is a beast and Vernon, Starks, Mithchel, Odrick and Shelby all played well. The run defense in the first half was average but they played a near perfect second half, this is Tom Brady over there. Wake had 2 sacks both caused fumbles. One won the game. A-

Secondary Brady is still Brady and they made him look like a regular QB and he is nothing like a regular QB. He finished only 29 of 56 for 249 yards and a TD. He only had one big throw (44 yards to Edelman). Edelman had 6 catches for 95 yards in the first half and ZERO catches in the second. A great second half, wow. B+

Special teams Sturgis played welland Fields was his probowl self. The block punt that resulted in Miami's first score kept Miami in the game in the first half and was a huge factor in the win. Great. Landry returned punts and did have one mental mistake (should have made a fair catch and instead he lost 20 yards) but his returns were solid. A-

Coaching I did not like the decision at the end of the half to decline a penalty that would have made the Pats try a 55 yard FG instead of a 45. Other than that the playcalling was great, it helps when your RB runs like that and your OL blocks well... B+




On the 1st of November, 1970, RB Mercury Morris, gained a Dolphin record of 302 combined yards. He ran 8 times for 89 yards, received 3 balls for 68 yards and returned 6 kicks for 145 yards.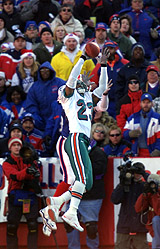 CB Patrick Surtain