Dolphins vs Patriots home game Summary

12/2/12

Grading the Dolphins

QB Tannehill did not play well. He did not throw any glaring mistakes that resulted in turnovers but he missed a w-i-i-i-i-i-i-d-e open Hartline for an easy long TD and then again on a would be short TD. His completion percentage was very very low (45%) and he wasn't able to lead Miami to victory in one of the most winable games he will have against Tom Brady. He's going to learn that the hard wasy begining in their rematch 3 weeks from now. He finished 13 of 29 for 186 yards and one rushing TD. D

RB The running game is just not clicking. Bush goes for minus 5 or 15 - nothing in the middle and Thomas is playing well but fumbling way too much (he fumble once but Miami recovered) and he did not have enough opportunities on Sunday. Is it Lamar Miller time ? Don't the Dolphins want to know if he can do better ? Marcus Thigpen carried the ball for the first time in his NFL career for 8 yards. Bush finished 15 for 64 and Thomas only 5 for 10. D

WR Hartline was solid (5 for 84) and should have had at least one score because Tannehill really missed on the long ball when Hartline was wide open. Bess had an awful game with drops. He was not his usual reliable self, not at all (he managed only 1 reception). Matthews had one long reception for 28 yards, maybe it's time to try him ? Clay had 2 recptions for 26 yards including a brilliant 20 yarder on an awfuly thrown ball by Tannehill. D+

OL Long was injured and his season is likely over (maybe his Dolphin career as well ?). Martin moved to LT. He will now probably have a 4 week audition for the spot. Garner entered the game in place of Martin. The issue wasn't time to throw. The run blocking could have been better but the O-line is not reponsible this time for the offense lack of production, the skill position players are. C

LB The front 7, including the LBs played very well. Dansby was his usual self and Misi also had a good game, Limiting Brady to 23 points including 7 on a 12 yard drive is just solid work. B+

DL Starks and Soliai had an A first half when the Pats could not throw. The run D wasn't very good in the 4th quarter but you have to judge the entire game. These were the Pats on the other end not the Jets or Bills. B+

Secondary Welker had over 100 yards but he needed 12 catches to get to 100. Brandon Loyd had only 1 recption and Reshard Jones intercepted Brady with one hand. To put it in perspective - Brady had 3 INTs in the first 11 games going 202 throws bwfore Jones' pick. Jones returned the ball for a score but it was negated by a post possesion offsetting penalties. A-

Special teams An awful game. That's two in a row. Thet are directly responsible for the loss along with the offense. fumbling a punt snap and giving Brady the ball at Miami's 12 is similar to giving the game away. This Miami team can not give Brady 7 easy points and expect to win they are just not that good on offense. F

Coaching What a bad game. A lot has been said about having Wake and Odrick out of the game in the critical 4th quarter 70+ yards-8 minute-game clinching Patriot drive. The coaches said it was a matter of snap count. Really ????? it's the 4th quarter and you are down by 7 who cares about snap count ? you play your best. But, the thing that I was most roubled by is this - Even if you make Brady go 100 consecutive 3 and outs NEVER EVER assume you stop him from scoring at least 3 in the next drive. They should had played the 4th quarter assuming Brady can have a 8 minute drive tat reults in at least a FG. The should have played accordingly, meaning 3rd and 4 id basically TWO plays to get 4 yards... The Dolphins could have and should have won this game. Brady is not going to play this wat very often. We know him. You'll probably see that in 3 weeks when the Dolphins play the finale at Foxboro stadium in New England. F




On the 1st of November, 1970, RB Mercury Morris, gained a Dolphin record of 302 combined yards. He ran 8 times for 89 yards, received 3 balls for 68 yards and returned 6 kicks for 145 yards.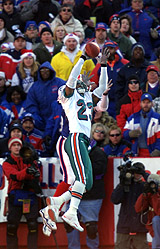 CB Patrick Surtain