Dolphins vs Patriots game Summary

10/4/10

Grading the Dolphins

QB Henne threw for 302 yards but almost all of them were check down passes and against a prevent defense. He started the game very well throwing a TD in the opening drive but it went downhill from there finishing with 3 costly and unnecessary INTs one of them returned for a TD. He did miss a wide open Hartline on a long ball. Thygpen entered the game and he added a fourth INT which was withput a doubt Hartline's fault. Henne's numbers 29/39 for 302 yards 2 TDs and 3 INTs. Thygpen's 2/6 15 yards and an INT.D-

RB Ricky played well when given the opportunity to run the ball but that's about it. Ronnie had an off game. They threw in the second half mostly. Polite missed an assigment which killed a drive (and almost killed Henne). Ricky 8/56 and a receiving TD, Ronnie 11/27. C

WR Brandon Marshall did not catch a pass in the first half. The only time he was targeted ended in an INT. The Pats double teamed him all day long and that resulted in a very good game for Bess (9 catches for 93 yards and a TD). Marshall did finish with 5 catches for 50 yards. B-

OL Henne usually had time to throw. Ronnie did not play well at all but Ricky found room so the O-Line did something good. Henne's INTs to former Dolphin practice squad member Rob Ninkovich killed the Dolphins in the first half. C

LB Wake is a good player, no doubt and Misi also was OK. But it was a quite day for Dansby and the Phins really need Crowder back. The inability to stop the run is their fault as well. A bit more pass rush coould have helped too. D+

DL It wasn't a good game for the defense. The stats look OK but that's basically because the special tems gave up so many points they really didn't need to try scoring against the Dolphin Defense. The Pats did run for 119 yards with BenJarvis Green-Ellis leading the way with 76 (4.8 average). Make no mistake here, Mr. Gree-Ellis is no Eric Dickerson or Barry Sanders. D+

Secondary The Dolphins lost by 27 with Randy Moss catching ZERO passes. Welker did not have a catch until the third quarter. Brady did not have to throw mush but really it wasn't the secondary's fault. B

Special teams Lat week I wrote - "They are by far the worst unit on the team" and they got an F. In retrospect last week looked good compared with this week. Last week following the block punt they released Erik Walden so it's only resonable to expect they would fire special teams coach John Bonamego. I know NFL teams dont usually do that but they should. It was, by far, the worst display of a special teams unit in at least 20 years. perhaps the worst ever in team history. Perhaps worst n NFl history. They managed to give up 3 (that's THREE) TDs in THREE DIFFERENT WAYS. The Patriots were returning kicks from 4-5 yards in their endzone, that's how they valued the Dolphins special teams. Brandon Tate returned a kick 103 yards for a TD. They gave up a block punt for the second week in a row resulting in another TD (for comparison prior to last week punter Brandon Fields was never blocked) and they also gave up a blocked FG returned for a TD. 21 points!! Awful. This was the worst performace by a unit, any unit (including Offense and defense) since the 1999 Jaguars playoff game. It was that bad. Giving them an F won't do justice. They have to fire the special teams coach, they just have to, wow what a humiliating performance. F- !!!!!!

Coaching On of the worst games in recent memory. The special teams play is the wirst play I've seen by a Dolphin unit since the 1999 Jaguars playoff 62-7 loss. I'm not talking about runing on 3rd and 4 or giving Ronnie more carries when he is having a bad day and Ricky is having a great one. I'm not talking about the once in a hlf throw to Marshall (I know he was double teamed but they get paid to find ways to give him the ball). The special teams is bad enough to earn an F for the entire coaching staff. They go into the bye week at 2-2 with 2 HOME division losses. Everybody will beat the Bills so realisticly they can not win a tie breaker with either the Jets or the Pats and they have a brutal 6 week schedule after the bye needing to win at least 3 if not 4 to stay in the playoff picture. The season is not lost yet, but it doesn't look very promising either. F




On the 1st of November, 1970, RB Mercury Morris, gained a Dolphin record of 302 combined yards. He ran 8 times for 89 yards, received 3 balls for 68 yards and returned 6 kicks for 145 yards.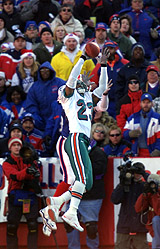 CB Patrick Surtain