Dolphins vs Vikings game Summary

12/21/14

Grading the Dolphins

QBRyan Tannehill had a very good game. He finished 35 of 47 for 396 yards and 4 TDs with 1 INT. He led the Dolphins for the game tyng drive and was most of the time very accurate. A great game for Tannehill. A

RB Lamar Miller was very good with 19 rushes for 92 yards and a TD. Williams rushed 3 times for 18 yards and caught 6 passes for 50 yards including a TD. Miller also had 5 catches for 58 yards. A-

WR Wallace was great with 2 TDs on 5 catches and Clay had 6 catches for 114 yards (including a 41 yarder). Landry had 8 catxhes for only 31 yards. Gibson added 2 catches for 50 yards (including a 40 yard catch and run) A-

OL The Dolphins O-line were decent. They played much better in the second half. They opened up holes in the second half for Miller. A very good showing for the offense. C+

LB The Dolphins gave up 35 points to the Vikings. That's not good. The run defense was again a problem especailly in the first half. 35 points to the Vikings is not very good. C

DL The Dolphins finally had a few sacks (2 by Wake). The run defense was horrible in the first half. They did get a lot better in the second half, when they managed to stop the run and put the Vikings in 2nd and long situations. They did give up 35 points to the Vikings. C+

Secondary Bridgewater playedd very well and the Fins secondary gave up a few long throws and TDs. 35 points to the Vikings is not good no matter how you spin it. C

Special teams Terrence Fede - blocked punt for a game clinching safety. Enough said. All else, including a kickoff fumble doesm't matter. FEDE. A

Coaching The Dolphins managed to win 8 games and be eliminated from the playoffs. They finish the season next week in what could be this regimes last game. B+




On the 1st of November, 1970, RB Mercury Morris, gained a Dolphin record of 302 combined yards. He ran 8 times for 89 yards, received 3 balls for 68 yards and returned 6 kicks for 145 yards.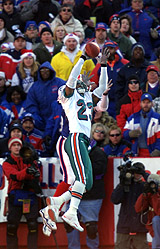 CB Patrick Surtain