Dolphins vs Rams game Summary

11/20/16

Grading the Dolphins

QB Ryan Tannehill was awful for the first 55 minutes. How bad ? he had 57 yards passing and had only 1 throw for more than 10 yards (and it was intercepted). Then suddenly he came alive to lead 2 4th quarter TD drives completing his last 11 passes and finishing 24 of 34 for 172 yards 2 TDs and 1 INT. B-

RB The Dolphins could not run the ball. Ajayi managed 77 yards on 16 rushes but that included a 36 yarder meaning he was 15 for 41 the rest of them. Just a bad showing by the entire offense (for 55 minutes). That won't be enough even against the 49ers. D+

WR They had a bad game for 55 minutes than Parker (8 for 79 and a TD) led the way to the comeback. Landry scored but only had 28 yards on his 5 passes and Stills wasn't much better (4 for 33). C-

OL That was tough, missing 3 starters is just too much, especially against the Rams front 5. They somehow held it together in the last 5 minutes when Tannehill worked his magic but let's not pretend he wasn't hit all day. D

LB They had a decent game although Miami still can not stop the run. It helps that they played against a first time rookie. Alonso had another caused fumble and he also recovered it. B-

DL The run stopping was not very good at the begining. The pass rush was OK considering Goff threw the ball as fast as he could. B

Secondary It helps when you play Goff but they did their share. They were solid and helped contain the Rams to just 10 points. B+

Special teams It was a decent and very busy game. Darr had a career high 10 punts, a witness to the awful offensive showing. No critical errors. C

Coaching They looked like they did not want to win. I understand the injuries but the offense was (in Gase's words) horrible. How they nmanaged to win is beyond me. The Fins all time record when going scoreless in the first 3 quarters is... 1-31. They do deserve credit that they hung in there and pulled out a win. Now let's get those O-Linemen healthy somehow... C+




On the 1st of November, 1970, RB Mercury Morris, gained a Dolphin record of 302 combined yards. He ran 8 times for 89 yards, received 3 balls for 68 yards and returned 6 kicks for 145 yards.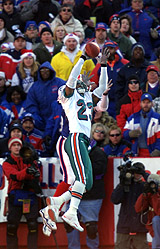 CB Patrick Surtain