Dolphins vs Chiefs game Summary

9/21/14

Grading the Dolphins

QBRyan Tannehill was not very accurate, putting it mildly. He also made some horrible decisions. For example 2nd and one he is running out of the pocket, has 10 yards in front of him and he tries a long ball. By the way they also missed on 3rd and one. He had under 50 percent completion percentage. F

RB Lamar Miller actually played OK. The only one in the offense to look decent. He had his second career 100 yard game although this team really misses Moreno. Miller had 108 on 14 carries. B

WR Again another horrible game for everyone not named Mike Wallace. Miami's second leading WR ? Hartline. 3 catches 25 yards... Matthews had 1 catch, Gibson was horrible. What happend to a very good unit ? It's only Wallace. Even Wallace (74 yards on 5 ctaches) can't save this grade. F

OL The Dolphins could not run protect Tannehill, evern the tackles had problems. They gave up 4 sacks but that's misleading as Ryan was consistently pressed, hurried and knocked down. Not to mention the penalties. Maybe Pouncey will be back next week. F

LB Jenkins is playing well but this unit misses Misi. They are just not good enough. C

DL Te front 4 played well. It was the Chiefs but you can't expect the defense to score in order to win. They did give the offense the ball twice, once very close to a TD and scored a safety in one of their 5 sacks. B+

Secondary Alex Smith is a good QB but let's not make him Peyton. They did give up a few easy throws but let's be honest the secondary or the defense is not the reason to this humiliating loss, the coaching and offense are. B

Special teams They gave up way too many return yards. Sturgis missed from inside the 50, Landry had one very good 74 yard return (and one horrible mistake fielding a punt at the 2) but it seemed in the openning kickoff had he gone left he could have broken another one. An up and down game. C-

Coaching Awful. first series Phins have 3rd and ten INSIDE CHIEFS TERRITORY and they run a draw ? second series 3rd and ten deep in Miami teritorry and they throw ? 2nd and one ans insteda of having Tannehill run for it they try a low percentage pass ? The offense scored 3 real points because take away the safety and the FG basically mad by the long kick return and offense did score a TD on a VERY short field and you are left with 3 points. You can not win scoring 15 points at home, even against the very banged up Chiefs. Where is Matthews ? Clay ? taking Ryan out of the pocket ? making him run ? something ? F!!!




On the 1st of November, 1970, RB Mercury Morris, gained a Dolphin record of 302 combined yards. He ran 8 times for 89 yards, received 3 balls for 68 yards and returned 6 kicks for 145 yards.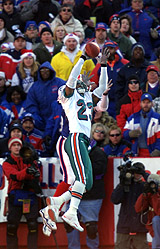 CB Patrick Surtain