Dolphins vs Jacksonville game Summary

9/20/15

Grading the Dolphins

QB Ryan Tannehill played well in the second and third quarters, he did miss afew open receivers but also made some great plays. Problem is he can't win alone in this league, he's not Brady. His numbers look great 30 of 44 for 359 yards and 2 TDs with no INTs but losing to Jacksonville and scoring 7 points in the second half is just bad. Playoffs ? really ?? B+

RB Lamar Miller was awful runnig (10 carries for 14 yards) and awful pass protecting resulting in several pressures on Tannehill. Ryan Tannehill led Miami in rushing with 17 yards on 3 cariies. Williams did score on a recpetion but as far as running ? 5 yards on 3 carries. Ouch ! F

WR Matthews had a great game with 115 yards even though 48 of them came on a tipped pass that he had not buisness catching. Landry had 8 catches for 110 yards but dropped an important 3rd down pass at the end. Cameron was great in the first half and then was invisible. The receives were not the problem although Stills and Jennings are nowhere to be found. B

OL The Dolphins O-line was OK until Albert left. They kind of tired as the game wore on and the backs were not helping in the pass blocking to say the least. As far as run blocking ? well the entire running game was a joke. C-

LB The Dolphins really need to tackle. Those were the Jaguars rushing for 113 yards. C-

DL Just awful. Miami's strongest unit is just awful.. Numer of sacks ?? ZERO. That's 1 in 2 games (and that was on amissed assignment by the O-line in week 1). Run stopping ? not much better although they did play better in the second half just not when it mattered. OV's unsportsmanlike penalty is just absurd. Merrit's a suspension. F

Secondary Bortles was 18 of 33 for 273 yards and 2 TDs ! Aguy named Robinson had 155 yards and 2 scores! ouch. Brady would have put up 10 TDs in this game. F

Special teams The Dolphins missed an easy 42 yard FG, did not kick from the 38 late and the refs spotted the ball wrong giving the Hags 3 points. Great day it was ot. D

Coaching The Dolphins are awful. They have good players but they just played another bad game and lost to the Jags. There is ZERO chance they get by Buffalo like this and this season could easily go south from next week. Just awful across the board from start to finish. The freaking Jaguars! F




On the 1st of November, 1970, RB Mercury Morris, gained a Dolphin record of 302 combined yards. He ran 8 times for 89 yards, received 3 balls for 68 yards and returned 6 kicks for 145 yards.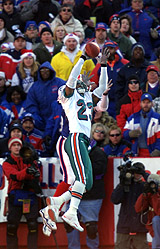 CB Patrick Surtain