Dolphins vs Jaguars game Summary

26/10/14

Grading the Dolphins

QBRyan Tannehill was mediocre, at best, but he wasn't helped by his WRs or O-line. Hartline alone dropped 3 passes. Tannehill finished 16 of 29 for 196 yards 1 TD and 1 INT. He rushed for 48 yards on 5 carries. C

RB Lamar Miller played a solid game (14 for 78 yards). Thomas added 18 on 4 carries and Tannehill ran for 48. It wasn't the best offensive performances C

WR Wallace caught 2 balls with one going for 50 yards. Hartline was horrible with 1 catch and 3 drops. Landry was OK and Sims had 2 receptions for 51 yards. C-

OL The Jaguars had 3 sacks and the O-line was horrible in the first half. LG Colledge was awful untill he was injured. This will not be enough next week against the Chargers. C-

LB The Jaguars are not a very good team and the LBs were so and so. They did survive another week without Koa Misi but the Chargers next week will be a totally different game. C+

DL Wake had one of the Dolphins three sacks but the Jags were good running the ball. Robinson carried the ball 18 times for 108 yards. That's too much. B

Secondary The Dolphins secondary scored twice on 2 pick 6s. Grimes had a nice 22 yard TD return and Delmas had an 81 yard return. When your secondary scores 2 TDs can you really not give them an A ? A

Special teams Dion Jordan off sides penalty negated a Jags miss. Fields played better than usual and Sturgis made his 2 tries. C

Coaching Thank god the Jaguars are that bad. The first half was a bad a half as the Dolphins had in years. The Dolphins were really lucky the Jags are that bad. Jacksonville really tried to give the Dolphins the victory and eventually they succeded. They will have to play much better next week against the Chargers. C




On the 1st of November, 1970, RB Mercury Morris, gained a Dolphin record of 302 combined yards. He ran 8 times for 89 yards, received 3 balls for 68 yards and returned 6 kicks for 145 yards.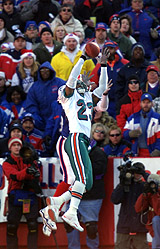 CB Patrick Surtain