Dolphins vs Jacksonville game Summary

12/16/12

Grading the Dolphins

QB Tannehill was very good. It helps when you are playing against the Jaguars... He was 22 of 28 for 220 yards and 2 TDs and his receivers dropped some of those 6 incompletions including one that Hartline should have scored on. Tannehill also rushed 8 times for 53 yards including a season long 30 yard run. Bad turnover on the sack/strip/fumble though A-

RB Bush ran the ball well and ended up with 21 rushes for 104 yards including a 53 yarder. He did miss on some runs taking it to the outside and ending up with negative plays instead of running it up inside. Miller added 18 yards on 6 carries and looked solid at times. It sure helps to run against the Jags' 31st ranked rundefense though. B

WR Harline went over 1000 yards for the season but dropped a short TD on a slant throw. He had a decent game (5 for 77 yards) and so did Fasano (6 for 56 yards and a TD). Matthews and Moore played more in place of the injured Bess and ended up with 3 and 2 receptions respectively. The Dolphins WRs is still the achilles heel of this franchise. They still have 3 TDs by WRs all season. To put it in prespective the Jags second year 4th round pick Cecil Shorts has just over 40 receptions (after having only two last year) and 7 TDs that's more than twice the entire Dolphins WRs, and he is no Brandon Marshall. C-

OL Yes, they played well but that wre the Jaguars on the other side, I mean can the Jaguars really beat Notre Dame ? If they play Alabama I'm betting on Nick $atan's guys, really, the Jags are an awful team. B-

LB It looked as if Dansby and Burnett made all the tackled in the game, they were just everywhere. They actually combined for 14 tackles. Great game for them. A-

DL Cam Wake did not have a sack. He will try to break his season best next year (he has a career tieing 14 sacks this season). Odrick added a sack and they played a nice quite game. B+

Secondary The secondary is playing better but then again this was our very own Chad Hene on the other side, Can this really tell us anything ? B

Special teams Another bad game. The fake FG looked horibble. Other than that an ordinary game with nice kickoffs by Carpenter. Brandon Fields did not punt much for the first time in a long while. C-

Coaching They won the easiest game on the schedule. By far, the easiest one. The offense looked better but that was only because they were playing the Jaguars. Did anyone really expect Chad Henne and his 4th string RB put points on Miami's D. I didn't. B+




On the 1st of November, 1970, RB Mercury Morris, gained a Dolphin record of 302 combined yards. He ran 8 times for 89 yards, received 3 balls for 68 yards and returned 6 kicks for 145 yards.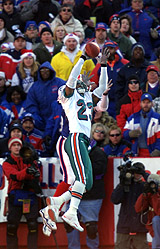 CB Patrick Surtain