Dolphins vs Colts game Summary

12/27/15

Grading the Dolphins

QB Ryan Tannehill had a decent game when he had time. He finished a decent 26 of 38 for 329 yards, no TDs and 1 INT. But, the objective of the quarterback is to score and the Dolphins finished with 12 points and one TD. That's just not good enough. C-

RB Lamar Miller had 15 carries for 31 yards. Ajayi had 9 for only 23 yards. Tannehill ran once for 28 yards almost the leading rusher.... F

WR The Dolphins have two good looking WRs for the future, other than that not much. Parker was great in the first half. He finished with 93 yards on 4 receptions including a 49 yarder. He is going to get better next year. He just needs to stay healthy. Landry had 1 reception in the first 3 quarters and then came to life finishing with 7 receptions for 111 yards including one highlight reel reception sure to make the NFL's top 10 of the season. He has 104 receptions a franchise record with one game to go. Ther other WRs did not do much. B

OL What a joke. The Dolphins played without their starting center and RT. Their starting guards are already the weakest link on the team resulting in an awful game for the O-line. It's a miracle Tannehill is still not injured. The last play, 4th and goal with a chnace to win. The guards did not move on the snap and backup center was pushed into the QB. A fitting way to end the game.Somehow the Colts only had 6 sacks. F-!

LB The Dolphins couldn't stop Gore (15 for 85 yards and 2 TD). The expectation from this unit is very low. Misi is already on IR. One more game for this unit, maybe one of the 3 comes back next year, maybe. D+

DL Suh had probably 6 offsides penalties this year, maybe more. They had 2 sacks but they could not really stop the run. Suh is almost always double teamed and the rest just can't get off blocks. C-

Secondary The Colts started their 40 year old backup. He was injured so they played with their 3rd string QB and he was banged up... Their QBs combined for 177 yards on 17 of 29. OK considering it was the Dolphins secondary. D+

Special teams Rooie punter Matt Darr is a strong candidate for team MVP. That's how bad this team is. Another nice performance by his. A quiet day for the special teams unit. C+

Coaching It looks like they don't really care. I know it's not true but that's just the way it looks. The Dolphins lost and scored 12 points against an awful team playing their 3rd string QB. Ouch. At least they improved their draft position for whoever is the head coach next year. F




On the 1st of November, 1970, RB Mercury Morris, gained a Dolphin record of 302 combined yards. He ran 8 times for 89 yards, received 3 balls for 68 yards and returned 6 kicks for 145 yards.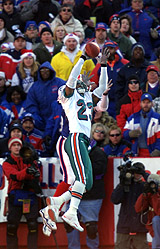 CB Patrick Surtain