Dolphins vs Houston game Summary

10/25/15

Grading the Dolphins

QB Ryan Tannehill was perfect. He finished 18 of 19 for 282 yards, 4 TDs and no INTs for a perfect 158.3 rating. On the way breaking the NFL record for consecutive completions as he completed 25 straight passes dating back to last week. Perfect game. A+

RB Miller gets an A+ all by himself. His stat line reads: 14 rushes for 175 yards and an 85 yard TD and he caught 3 passes for 61 yards including a 54 yard TD. Wow!/ A+!!!

WR Matthews caught 3 balls for 75 yards including a 53 yard TD on a short pass that he ran in, Landry had a 50 yard TD (one of his two scores) with a lot of YAC. Just a perfect game by the WRs (Parker had a long throw negated by a penalty) A+

OL The Dolphins O-line blocked well. Run blocking was great and pass blocking was solid. The blocking downfield on Landry's TD was just Great. Watt had two sacks in the second half when the game was way over. A

LB The Texans could not move the ball in the first half and the second half was just garbage time most of the way. Solid game. A-

DL Wake's had 2 sacks and Suh jad 2 sacks. The did get sloppy in the second half with way too many penalties for offsides but the first half was when the game was decided. A

Secondary Jones had his second pick 6 of the year but other than that they looked iffy in the second half. It won't be enough against Mr. Brady come Thursday night... B

Special teams Franks missed an extra point which is unacceptable but Darr was his usuall great self. He doesn't look like a rookie at all. C+

Coaching Wow, the legensd of Dan Campbell grows (at least until Brady starts throwing against them on Thursday...). What a game! The looked like a totally different team. They led 41-0 at halftime! Can they really beat New England ? I don't think so but they can make it a game. Campbell is king right now. A+




On the 1st of November, 1970, RB Mercury Morris, gained a Dolphin record of 302 combined yards. He ran 8 times for 89 yards, received 3 balls for 68 yards and returned 6 kicks for 145 yards.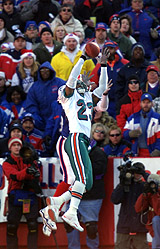 CB Patrick Surtain