Dolphins vs Packers game Summary

12/10/14

Grading the Dolphins

QBRyan Tannehill was horrible in the first half and brilliant in the second half. there really is no explaining his inconsistent play. He finished the game with decent numbers (20 of 31 for 231 yards, 2 TDs and 2 INTs) but ultimately he did have a chance to win the game with a single first down and he did not. Rodgers showed how it's done including pulling the Dan Marino clock play in Miami. The first half can not be overlooked. C

RB Lamar Miller played decent, nothing special rushing for 53 yards on 14 carries. Miami ran for 112 yards but 40 of them came on one Ryan Tannehill run. They couldn't run for a first down in Miami's last posssesion and gave the PAckers the opportunity to win and they did. C-

WR Hartline was awful. He did not register a single catch. Wallace (67 yards and a TD) and Landry (75 yards and a TD) led the way. Clay is just not his former self (3 for 35 yards). C-

OL The Dolphins were OK in pass protection and were OK in run blocking. Pouncey didn't make the O-line better and was just a pretty average showing. Grenn bay does have two very good players in the front 7 but other than Matthews and Peppers there isn't much. C

LB Misi was back and it showed he played very well. Jenkins is also solid. The Dolphins after the timeout left Philip Wheeler alone against a TE with Rodgers throwing for the win ? really ?? It's not eh LBs fault. It's just crazty putting the game in the hands of Wheeler. B

DL Wake and Vernon were very active and played well, as wee the big three DT Odrick, Mithcel and the brilliant Starks that came back from injury. They are by far the most underrated position on the team. It was Aaron Rodgers back there. B+

Secondary The Dolphins could have played better. Some of the mistakes (Finnegan especially) cost the team the win. Rodgers is very good and he will score on any defense but some of the late plays were just mistakes. The fake spike was just an awful play. Nelson had his good plays as well. C

Special teams Landry gets an A on his returns all else get an F. Giving up thahe big punt return to shorten the fireld for Rodgers is just ridicolous. The Packers picked up a Kickk in the endzone very late and instead of using it for a goo start they somehow took it out to the 25. The coverage teams are just not very good but the punt block was huge (no if the Dolphins could at least score from the 16 they would have won the gmae but that's another matter). C

Coaching Hindsight is always 20/20 but there some very debatable calls. After three tries form the 4 going for it on 4th and goal from the 2 instead of taking three points ? (the Dolphins lost by 3...) I can understand that (not agree, understand). The calls late troubled me. They could have won the game with one first down, it's 2nd and long then you throw (away!) incomplete (on 2nd) and then run (on 3rd) ? If one of them is a run (you know you are not getting 10 yards on 1 run in this situation when everyone is prepared for a run) why wouldn't you run first (let the clock down and see the results) and then pass ? first let the time off the clock and then see where you're at to make a decision. For me you have to look at the two plays together. Another thing was the time out on 4th and 10 with the clock ticking and GB in dissarray offensivley not knowing what to run(the Dolphins D was also in dissarray), really ? giving Rodgers and McCarthy time to think it over ?? I'd rather risk it. Also the most important play of the game - you took a TO (again giving them time to think, that's McCarthy and Aaron Rodgers - he of the 100+ career rating) and you come back with this ? Wheeler ? Our season on Wheeler ? By the way, even I could see the fake spike from Home (and that's almost 6000 miles away). Keep him in bounce ! any one of those plays played differently could have won the game. Very very dissapointing. If they don't win next week this season is over because there is no way that this team can beat Denver or San Diego right now (and we know they can't beat the Bills). D




On the 1st of November, 1970, RB Mercury Morris, gained a Dolphin record of 302 combined yards. He ran 8 times for 89 yards, received 3 balls for 68 yards and returned 6 kicks for 145 yards.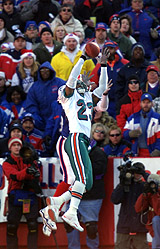 CB Patrick Surtain