Dolphins vs Packers game Summary

10/17/10

Grading the Dolphins

QB Henne threw for 231yards (on 23 of 39) but also threw another INT to go along with 2 TDs. He looked OK but at times he just missed on some throws. The INT was just a bad throw as he threw it to the inside of the WR instead of the outside when only the WR can catch it. An OK day for Henne.C+

RB Ricky and Ronnie played very well especailly in the second half and the OT. They basically won it in the OT when the Fins got the ball at midfield and 5 of the next 6 plays were runs to set up the game winner. The numbers - Ronnie 19 for 73 yards and Ricky 13 for 64 yards. B+

WR Brandon Marshall caught 7 balls for 102 yards by halftime. The Packers made the adjustments but he still finished the game with 10 catches for 127 yards and his influence on the defense can not be understated. He is that good. Bess caught his second TD of the year and Fasano also caught a nice TD on a TE screen. B+

OL Henne had all day to throw. The Packers playing without all pro Clay Matthews could not pressure Henne and the run blocking, expecialy in OT was just great. B+

LB Crowder was back and it showed. Misi and Dansby also had solid days but this game belonged to Wake. He was clearly the best player Miami had. He got 3 sacks and countless hurries and hits on Rogers. He deserves an A all by himself. A

DL It was a decent game as the Packers could not run the ball at all. The pressure from the front 3 is still missing. Odrick will probably be back next week and he will help this unit. B-

Secondary The Dolphins gave up an 86 yard TD by Vontae Davis but other than that they played OK against a pro bowl QB. Jason Allen got his third INT of the season. C+

Special teams Green bay got their hand on yet another punt. Luckily it rolled and Miami got 29 yards form it. Carpenter was just great with a career long 53 yarder and a game winner in OT. Nolan Caroll also showed some speed in his returns. C

Coaching They won but the challenge ahead still looks awful tough. The Jets are already 5-1, the Pats 4-1 and Miami plays the Steelers at Miami next week trying to win for the first time at home. B




On the 1st of November, 1970, RB Mercury Morris, gained a Dolphin record of 302 combined yards. He ran 8 times for 89 yards, received 3 balls for 68 yards and returned 6 kicks for 145 yards.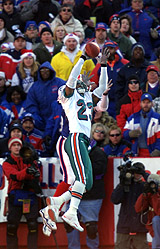 CB Patrick Surtain