Dolphins vs Lions game Summary

9/11/14

Grading the Dolphins

QBRyan Tannehill played an average game with 1 TD and 1 INT. He missed Wallace on an open deep ball but on the other hand Clay dropped a potential game cincher in the endzone. The offense only scored one TD and that was on a 3 yard drive. He was 27 of 38 for 207 yards. C-

RB Lamar Miller was injured (only 4 eushes for 10 yards)and Damien Williams actually played a decent game considering the injuries on the O-line and Detroit very good defensive line. He did have only 7 carries for 34 yards. Thomas wasn't at his best with a costly fumble and only 14 yards on 5 carries. D

WR Clay dropped a game clinching TD but he did have 7 catches for 45 yards. Landry is becoming the focal point of the offense. He finished the game with 7 catches for 53 yards most of them short passes in the first half. Hartline was again a non factor. Wallace was (again) wide open on a deep throw which Tannehill overthrew and he scored his 6th TD of the seasaon, by far leading the team. He did have 51 yards on his 6 catches. C+

OL The Dolphins lost Branden Albert for the year with a torn knee and they were already playing without Coledge so the make shift line had their first challenge unprepared against a very good Detroit front. They actually did OK considering. C

LB They played well for 57 minutes, as did the entire defense. Losing at the end is frustrating, but holding Detroit to 20 points is actually a good game. Jenkins is becoming a major factor. B-

DL They had their good plays, Wake had two sacks but when it counted mst at the end they could not get to the imobile Stafford. Jordan and Mitchell played well on special teams as well. B-

Secondary Megatron scored on a 49 yard pass and both him and Tate had more than 100 yards but all others were held in check and Grimes gave the Dolphins a chance with his 5th INT of the season. Like the D-line, looking at the last drive is not fair (although Jones should have never given up that TD). You have to look at the big picture. 20 points to Detroit on the road isn't that bad. C+

Special teams The Lions had TWO fake punts, one succeded. The Dolphins tried a fake punt, made it only to be nullified by a penalty, Fields did not punt very well and they also blocked a FG (Mitchell) and returned it to the 3 yards line - all this in the same game. Talk about ups and downs.. C

Coaching Frustrating game. Now Thursday's game against the Bills is certainly a must win game. The Dolphins had this game won but could not convert one or two first downs on their last possesion or stop Stafford. Frustraiting but over. If they had to choose a game to lose in then an NFC opponet is the one to lose. C-




On the 1st of November, 1970, RB Mercury Morris, gained a Dolphin record of 302 combined yards. He ran 8 times for 89 yards, received 3 balls for 68 yards and returned 6 kicks for 145 yards.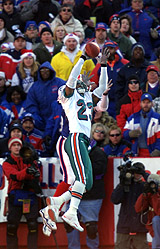 CB Patrick Surtain