Dolphins vs Lions game Summary

12/26/10

Grading the Dolphins

QB Chad Henne completed 29 of 44 attempts for 278 yards,a TD and 2 INTs. But the INTs at the end killed the game. On one of them Bess fell down the other was just awful, either the backup Shuller stopped running or Henne missed a 6 yard pass by 2 yards. The team had a 10 point lead with 5 minuetes to go and managed to lose the game. The ridicolous play calling at the end didn't help Henne. D

RB Ronnie and Ricky ran for 106 yards on 26 carries which is OK, not more than that. Ricky is clearly the better runner especially with this below average line. Hew finished with 71 yards on 14 carries (average 5.1) while Ronnie averaged just 3 yards on his 12 carries. C+

WR In the last two games Brandon Marshall has 21 catches for 208 yards. He is, by far, the best player on offense (with a healthy Jake Long) and he has 81 catches on the year (remeber he missed 2.5 games due to injury). He averages 6.5 catches a game (a 100 catch/year rate). He also has more than 900 yards this year. Marshall finished with 10 catches for 102 yards (his 4th 100 yard game in his 12 full games this year). Other than Marshall, Bess is a good WR (6 catches but for only 34 yards...) but Wallace and Moore are inexperienced and Wallace drops too many balls. Moore looks better on offense (Wallace is better on special teams). This unit really miss Hartline (and pass protection and better QB play... ). B-

OL The run blocking was OK so was the pass blocking but the penalties really hurt Miami. The holding call on the last drive kiiled the team's chances to tie the game. D+

LB The LBs were OK. Not spectacular but OK. No sacks, no pressures. The Lions moved the ball well and scored 34 points (13 off turovers). C

DL Soliali is going to make a lot of money. He dominated the middle and made the Miami line very good against the run. The Lions averaged 2.9 yards per carry. The pressure is still not good enough. B

Secondary Hill was 14 0f 26 for 222 yards, 2 TDs and no INTs. That's way too good for a backup QB on the road. Part of it is the lack of pressure but part of it is the secondary play. Pettigrew had 74 yards on 4 catches including a TD. No INTs again for this group even though Sean Smith touched the ball again. C-

Special teams Austin Spittler killed the game with a penalty in the last drive setting up the Dolphins to start at their own 8. Other than that they were fine, especailly the usually leaking covewrage teams. C

Coaching This is a weekly problem. Awful play calling. As Wannstedt used to say - somtimes a punt is a good thing. 10 point lead with 5 minutes to go, how in the hell did they lose this game ? Throwing two INTs at the end ?? And the biggest what-the-hell-were-they-thinking - Throwing a pass to the RB with no timeouts under 30 seconds to go instead of taking 2-3 shots at the endzone to tie ?? F




On the 1st of November, 1970, RB Mercury Morris, gained a Dolphin record of 302 combined yards. He ran 8 times for 89 yards, received 3 balls for 68 yards and returned 6 kicks for 145 yards.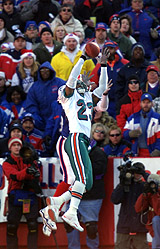 CB Patrick Surtain