Dolphins vs Broncos game Summary

11/23/14

Grading the Dolphins

QBRyan Tannehill had a huge game and did put 36 points on the road against a very good Denver team without Clay. He scored a rushing TD to go along with 3 passing TDs and went 5 of 5 in the red zone. He finished 26 of 36 for 226 yards, 3 TDs and 1 INT and also had 4 carries for 15 yards and a rushing score. Can you really blame him for the loss ?A-

RB Lamar Miller ran well and finished with 59 yards on 12 carries. Daniel Thomas added a rushing TD. The Dolphins played well and managed to score at will, especially early on. B

WR Again Landry led the way (7 for 50 yards and 2 TDs) and it was mostly short passes. Wallace scored his 7th TD of the season although he was quiet (4 for 35 yards). Gibson had his best day of the year catching 5 passes for 42 yards but did losse the ball twice, luckily Miami recovered. B

OL The Dolphins patched up O-line ended the game with Jason Fox at LT, that's scary but it actually held up pretty good considering they were playing against Ware and Von Miller. To give up onl 1 sack is doing well considering the circumstances. B-

LB Jenkins is not only the brightest spot of the year but he really should get probowl consideration. He is that good (11 tackles including a sack). Other than Jenkins giving up a lead and 201 yards rushing is unacceptable. b> D+

DL 201 yards rushing to Denver. A guy named CJ Anderson getting 167 yards ? Aren't they suppose to be the strength of the team ? Wake was invisible. F

Secondary Manning threw 4 TDs, 3 of them to Demarius Thomas but it was Peyton. He was really kept in check until the 4th quarter. The Dolphins shouldn't give up 11 point leads in teh 4th no matter what. Taylor played for Finnegan and did well until being injured. B-

Special teams Fields is playing better lately and Carpenter did not need to kick FGs as Miami was very good in the redzone (5 of 5). The return coverage game was iffy giving up a 40 yard return. C

Coaching The Dolphins played a top 3 team on the road and were expected to lose. They actually played better than Denver for 3 quarters, played excellent on offense but somwhow found a way to lose at the end and that's unfortunate. Too bad good effort doesn't count. C+




On the 1st of November, 1970, RB Mercury Morris, gained a Dolphin record of 302 combined yards. He ran 8 times for 89 yards, received 3 balls for 68 yards and returned 6 kicks for 145 yards.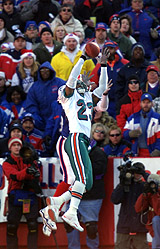 CB Patrick Surtain