Dolphins vs Cowboys game Summary

11/22/15

Grading the Dolphins

QB Ryan Tannehill had a bad game. He did throw three excellent passes - 2 deep balls to Stills and Landry and a great TD catch to Cameron but other than that he was off and the team was 1 of 10 in third downs. No wonder they could not run because of the down and distance situations. He also threw an awful pick 6. At the end the offense scored 14 and gave up 7. You just can not win like that. The stat line was 13 of 24 for 188 yards 2 TD and an INT D

RB Ajayi was 4 for 13 and MIller was 7 for 44. They did not have enough opportunities to run the ball although they ran well when they did. C-

WR The WRs were so and so. Landry had a huge 47 yard gain and Stills also had a nice 29 yard TD. But the offense just did not click for all kinds of reasons resulting in 9 catches by all WRs and TEs combined. That's just not good enough to win. D+

OL The Dolphins O-line really need RT Ja'Wuan James back. Fox did not play well. Aside from LT Brandon Albert the rest of the line was average. The pass blocking was OK at times (3 sacks) and they did not run enough times to even grade the run blocking. 1 of 10 on third downs... D+

LB The Dolphins are just not very good at the LB position. Jenkins missed the game and Misi was invisible. They somehow ended up with Hewitt and Aikens covering (trying to cover) Dez Bryant. The result was a TD. The Cowboys ran all over the defense especially in the few snaps Suh was out C

DL As been the case lately, Suh gets an A all by himself. The problem is the other members of the line are not playing well. Suh was out for a snap and the Cowboys had a 35 yard run. They could not get to the banged up Romo (2 sacks) often enough. C+

Secondary It's hard when you have a late arriving Walt Aikens and a LB covering Bryant. They did OK considering Romo was back but they did not come up with big plays expect the Grimes INT. . The Cowboys were 7 of 14 on third downs. That's the game. C+

Special teams Another blunder in the return game. Darr is the only guy in this unit holding up the grade (5 punts inside the 20). Landry had 1 punt return for 12 yards and the blunder on kick return. D

Coaching A LB and a late arriving Aikens on pro bowl WR Dez Bryant ? really ? The Dolphins lost their last chance to get back into the season. Everybody thinks that they can get back with a win against the Jets, in reality - no they can not. D




On the 1st of November, 1970, RB Mercury Morris, gained a Dolphin record of 302 combined yards. He ran 8 times for 89 yards, received 3 balls for 68 yards and returned 6 kicks for 145 yards.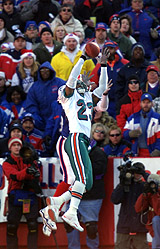 CB Patrick Surtain