Dolphins vs Browns game Summary

9/25/16

Grading the Dolphins

QB Ryan Tannehill wasn't very good. He missed a few throws, threw two awful INTs (including a pick 6) and virtually handed the Browns the victory at the end of regulation (they politely declined). The stats were 25 of 39 for 319 yards 3 TDs, 2 INTs and a lost fumble. This was the Browns playing without their probowl CB (Joe Haden) and their best pass rusher. C-

RB Arian Foster didn't play. Drake looked like the best of the rest (37 yards...) but not by much. The Dolphins can not run the ball. They also failed to pass protect in the most crucial time. D+

WR Nothing to write home about. Landry played OK (7 for 120 yards and a TD). Parker was quiet besided his TD catch and Stills did not have a good game. C+

OL The Dolphins O-line pass blocked OK most of the time but the run blocking was awful. backup center Steen was injured and James was beaten for that crucial sack strip fumble at the end. It was the Browns! C

LB Kiko Alonso is OK. The rest aren't very good. The Browns should have won the game playing with their 3rd string rookie QB... The Dolphins can not stop the run. They just can not. 169 yards rushing for the Browns ! ouch. F

DL The Dolphins did not pressure the QB as much as they should have and could not stop the run! 169 yards rushing for the Browns! with a 3rd string rookie QB! F

Secondary After making Jimmy G look like a probowl they in turn made some 4th round rookie QB look like decent QB. Cody Kesler was 21 of 33 for 244 yards (to go along with 3 of 5 for 35 for Pryor). Really ?? F

Special teams Thank god for Matt Darr! Best player on the team. A

Coaching That was just unacceptable. Just a poor showing against a banged up god awful team. Somehow they managed to win this game! just Lucky. Poor Browns. After 17 years I'm giving an F to the winning coach. It was embarassing. F




On the 1st of November, 1970, RB Mercury Morris, gained a Dolphin record of 302 combined yards. He ran 8 times for 89 yards, received 3 balls for 68 yards and returned 6 kicks for 145 yards.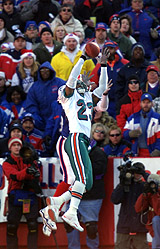 CB Patrick Surtain