Dolphins vs Raiders game Summary

12/5/10

Grading the Dolphins

QB Chad Henne was just awful. Just awful. His numbers 16/32 174 yards, TD and 3 INT. The third one giving the game away instead of going to OT. The first one was badly under thrown by a good 4 yards when Hartline was wide open deep, the 2nd one was just an awful throw into triple coverage when he missed by a good 2 yards. Just a bad game. F

RB Ronnie 50 on 16 carries, Ricky 48 on 10 carries. An OK game by the running game to go along with the awful passing game. Ricky is playing better than Ronnie. The wildcat was used again with OK results. C

WR Brandon Marshall was out and Hartline was injured so the Dolphins were left with rookie free agents WR Marlon - drop it - Moore and WR Roberto Wallace to go along with Bess (6/67 yards). Aside from Bess the other Dolphins WRs contributed 1 catch for 9 (n-i-n-e) yards... Does anyone still think that Marshall is not missed ? Just a very bad game for the passing game. D-

OL Carey was injured and he was also caught on a hold. Usually Henne had time and there were runing lanes but the offense was just awful - 10 points at home against the Browns ?? D+

LB Crowder was out again and Dansby was quiet. Cameron Wake was his usual sack machine recording 1.5 of the Dolphins 2 sacks but Browns TE Ben Watson caught 10 balls and at times there was no pass rush at all. B

DL The run defense was fantastic, it really was. Dellhome wasn't rushed much but that is not the reason Miami lost, you can not win when scoring 10 points at home in warm weather, it has nothing to do with the defense. B

Secondary Dellhome looked way better then he actually is going 24/34 for 217 yards and a TD, especially in the second half. Nolan Carrol could have won it for Miami but droped a sure INT at the end. C+

Special teams Every kick is still an adventure.... One kic blocked but Carpenter nailed a frnachise record 60 yard FG at seas level. Fields also had a fine day averaging 42 yards with a long of 61 yards. It's a miracle they managed to contain somewhat injured Joshua Cribbs.C

Coaching The worst game of the season when the Dolphins needed the win the most. Just awful all around scoring 10 points at home against the Browns ?? Going with 2 undrafted college free agents on the roster showed when Marshall and Hartline were not available. They had a good call on the first INT and Hartline was open but Henne badly under threw it. Just an awful offensive performance and a really really bad game. Really bad. F




On the 1st of November, 1970, RB Mercury Morris, gained a Dolphin record of 302 combined yards. He ran 8 times for 89 yards, received 3 balls for 68 yards and returned 6 kicks for 145 yards.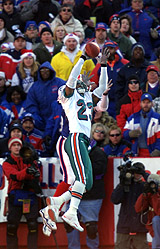 CB Patrick Surtain