Dolphins vs Bengals game Summary

9/29/16

Grading the Dolphins

QB Ryan Tannehill's umbers looked OK - 15 of 25 for 189 yards 1 TD and 1 INT. They are misleading. He was awful. The Dolphins offense did not go past the Bengals 39 yard line! He made turnovers (1 strip sack and 1 INT) and was off when it mattered on 3rd downs. Just a bad game for the entire offense. His pocket presense, well, you know... F

RB The 4 RB approach is not yielding any results. The Dolphins can not run and they don't seem like someone who wants to run. Ajayi "led" the way with 33 yards. D+

WR Parker was invisible (2 catches?). Just one good play by Stills on the long TD. Landry was below average with a pedestrian 9 yard per catch average usually catching passes before the first yard stick pumping the stats. D-

OL The Dolphins O-line was a mess. Tunsil moved to LT for the injured Albert, backup C Steen was out replaced by 3rd string Urbick and the right side of the line Bushrod and James actually played but they are not very good. Turner replaced Tunsil at LG and showed that he is not that good at pass protection. The Bengals had 5 sacks and the run blocking wasn't very good. Tunsil was the only decent one. D

LB The run stopping was actually OK. Considering they played without 2 starters it was a decent performance. They did miss tackle (Hewitt) but they were not the reaason for the awful performance. Not at all. C

DL The Dolphins did not pressure the QB. They were OK vs the run which is troubling considering no one can block Suh with one guy so the rest of the line are almost always one on one. Is there a reason in this world to play Fede over Cameron Wake?!?! C

Secondary Gase benched Maxwell for... Tony Lippet. That experiment ended up with AJ Green going for 10 catches for 173 yards and a TD. Lippet also missed a tackle in Green's TD. The safeties were average. Andy Dalton's line was 22 of 31 for 296 yards and a TD - That's not good. Dalton ? really ?? D-

Special teams Aside for the weekly probowl perfor,ance by Matt Darr, The reast was not very good. Fede had the worst play of the year - shoving the punter with no reason negating a punt and giving the Bengals a first down. I was surprised he continued playing (over Wake!) because it was much much worse than Maxwell and James who got benched. F for Fede, A for Darr

Coaching That was just unacceptable. Just a poor showing. There were injuries but still it was an embarassment. It looked like they gave up on the game and did not want to win at all. 7 points ??? not going past the 39 of the Bengals ??? Not playing Wake ??? Really ??? F




On the 1st of November, 1970, RB Mercury Morris, gained a Dolphin record of 302 combined yards. He ran 8 times for 89 yards, received 3 balls for 68 yards and returned 6 kicks for 145 yards.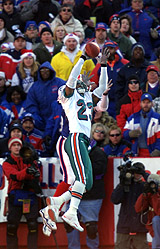 CB Patrick Surtain