Dolphins vs Bengals game Summary

10/31/10

Grading the Dolphins

QB Henne was OK aside for one very bad INT when he threw into triple coverage. He did not go long all day and finished with 217 yards on 37 attempts (less than 6 yards per attempt). He made some great throws in the long 96 yard drive including a 25 yard pass to Marshall drom the Dolphins 6 yard line. He finished 24/37, 217 yards and an INT. B-

RB The Dolphins didn't abandon their running game and it paid off with an 18 yard run by Ricky setting up his 1 yard TD that closed the game. Ronnie and Ricky were 16/61 and 9/47 respectively. B

WR Brandon Marshall was quiet catching 5 balls for 64 yards. Hartline added 53 on 5 catches but had a huge drop. Bess had 7 for 53 but also had an awful turover on special teams. Fasano dropped 2. C-

OL The Bengals are not a very good pass rushing team (they have 6 sacks on the year, Cameron Wake alone has 6.5) but even so Henne had all day to throw. Really the pass blocking was superb. The run blocking wasn't as good. B+

LB Great game by the entire defense. Dansby played well. The pass rush wasn't as good as last week. Miami didn't have a single sack all day. Wake was close on a few occasions but missed Palmer. A-

DL It was a solid game after the rist drive. Not much pressure on Palmer but the run defense played much better in the second half. A few mistakes like Lagford's hand going to Palmer's helmet almost cost the team but by enlarge a solid game. B+

Secondary The Dolphins gave up 2 TDs to TO in the first half. The second one should have been an INT. TO got 1 in a million type gift from Chris Clemmons as the ball bounced off his hands for the waiting Owens. Davis should have had one INT. Seasn Smith replaced Jason Allen and played very well registering his first career INT to secure the victory. B

Special teams Every kick is still an adventure but Carpenter looks like the best kicker in the league. He is 10 of 10 the last two weeks. This is just unreal. Fields also made some nice punts but the Dolphins did turn the ball over on Bess' muff punt. It shouldn't happen. Carpenter gets an A+, the rest take the grade down. B+

Coaching The ultra conservative calls really are not fun (a wildcat run on 3rd and 6 ? two straight wildcat runs in the last drive needidng a first down when Ricky was rolling ?). It sometimes looks like the coaching staff is not interested in haveing a 2 possesion lead. The defense was superb and so was Carpenter as the offense did just enough to win. 5 FGs are OK for a agame against the Benglas (just barely) but against the Ravens next week it won't be enough. B




On the 1st of November, 1970, RB Mercury Morris, gained a Dolphin record of 302 combined yards. He ran 8 times for 89 yards, received 3 balls for 68 yards and returned 6 kicks for 145 yards.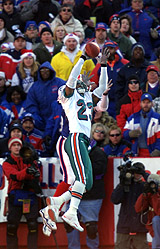 CB Patrick Surtain