Dolphins vs Bears game Summary

19/10/14

Grading the Dolphins

QBRyan Tannehill was excellent, brilliant. He played a very close to a perfect game, if not the best in his 3 years, certainly a top 3 game. He finished 25 of 32 (78 percent) for 277 yards,2 TDs with 0 INT and 50 yards rushing on 4 cariries before 2 kneel downs. A 123 rating doesn't tell the entire story of his day. A+

RB Lamar Miller played a solid game (18 for 61 and a TD, 2 catches for 22). Daniel Thomas also had 7 rushes for 25 yards and caught 3 balls for 25 yards. Tannehill had a 30 yard run on 4th and 1. B

WR Aquiet day by the WRs. Wallace caught his 5th TD of the year (he has 6 catches in the last 7 games dating back to last year, being the first to do that since Mark Clayton 30 years ago), He finished with 5 catches for 46 yards. Clay had 5 for 58 and a TD and Landry also had 4 catches for 46. B

OL The Dolphins gave up 4 first half sacks but kept Tannehill clean in the second. It helps top have a functioning run game with a running QB. They also blocked very well for the run game. B+

LB Forteran for just 49 yards on 12 carries (and 6 catches for 60 yards), he did score twice but he is a very good player so that can be expected. Bennet was kept in check all day. B+

DL Wake had a strip sack fumble recovery and Shelby came back and had another sack. Starks was his usual mountian man. A great game for the entire defense. A-

Secondary The Dolphins faced perhaps the best duo of WRs in the league without nickel man Jimmy WIlson and played a perfect game. Marshall was held to 48 yards and Alshon Jefferey was helpd to 2 (two!) receptions for 9 yards! height advantage ?? really ?? Jones intercepted a pass in his second game back from suspension. A

Special teams A horrible game for the special teams. Missing a 50 yard FG can be excused but a 36 yarder ?? This is how you lose in the NFL. Giving up a long KOR at the end did not help. D

Coaching WOW ! Excellent preparation, excellent play calls, just a near perfect game. The Bears offense is a very good offense playing at home. They had 2 pro bowl WRs with a great TE and RB. Actaully Bears RB leads the NFL in receptions (not RBs, the entire NFL). So the defense played well and Tannehill was perfect. A great game all around. Got to give credit when credit is due. A




On the 1st of November, 1970, RB Mercury Morris, gained a Dolphin record of 302 combined yards. He ran 8 times for 89 yards, received 3 balls for 68 yards and returned 6 kicks for 145 yards.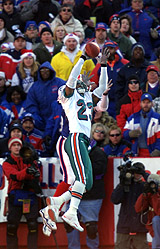 CB Patrick Surtain