Dolphins vs Bears game Summary

11/19/10

Grading the Dolphins

QB Don't let Thigpen's numbers - 17/29, 187 yards and an INT fool you, he was much worse missing throws, bouncing several on the ground like ping pong (he wasn't helped by Marshall's two drops and injury and awful blocking). There is a reason he is the third string QB. Henne looks better then he ever did right now. Are Fins headed for yet another QB next year ? F

RB The Dolphins could not and would not run. How bad ? 6 carries 11 yards bad. That's COMBINED for Ricky and Ronnie. 6 carries, and it's not that there was a 30 point differntial. F

WR Brandon Marshall was injured by the second quarter after 2 drops and 35 penalty yards. Hartline was OK, that's about it. D-

OL Thigpen was sacked 6 times. LT Long is playing with one shoulder, RT Carey on one knee, backup C Cory Procter lasted 8 plays making LG Richie Incognito the new center (for the first time since his college days) making backup RG Pat McQuistan the new LEFT guard... RG was the only position with the same player or uninjured player John Jerry - and he was flagged for holding... F

LB Cam Wake is a probowl pass rusher and Karlos Dansby is worth every penny other than that... D+

DL It was way too easy for Matt Forte (95 yards) to run as the Bears ran for 135 yards on the day and they are a passing team. Forte didn't break a long one but had 8,9,10 yard runs with ease meanning he wasn't touched before getting into the next line of defense for the Dolphins. Starks and Langford combined to 1 or 2 very good plays. D

Secondary Sapp and Harris were picked upon as Cutler had a very efficient game. The Bears converted 10 of 18 3rd downs resulting in long drives and akmost double TOP. Let's make it clear Vontae Davis DID participate in the game. Reshed JOnes started, was beaten deep by Hester but Hester dropped the pass. D

Special teams Every kick is still an adventure.... Hester made a 24 yard return. Carpenter kicked once all day. Fields averaged 36 yards a punt. Carroll is playing better, much better. C

Coaching An awful game, awful game. Enough said. F




On the 1st of November, 1970, RB Mercury Morris, gained a Dolphin record of 302 combined yards. He ran 8 times for 89 yards, received 3 balls for 68 yards and returned 6 kicks for 145 yards.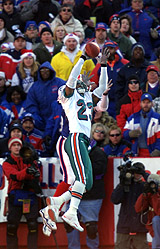 CB Patrick Surtain