Dolphins vs Bills home game Summary

10/23/16

Grading the Dolphins

QB Ryan Tannehill was OK, he missed on a few but directed the Dolphins in a monster 4th quarter. He finished with 15 of 25 for 204 yards and a score. B+

RB Ajayi!! WOW!! 29 rushes for 214 yards and a score. Back to back 200 yard games! 4th player in history to do that. Damien Williams also had a nice 12 yard TD. A+

WR They played well when mattered, Landry had a crucial catch on 3rd down and Stills had a long TD. Stills had 5 catches for 100 yards and the score. Landry had 5 for 78. Parker was invisible. B

OL Wow, They plyed very well and blocked for more than 250 yards rushing. Ryan had time and was sacked only once. They did have way yoo many holding and offsides penalties. A

LB The run stopping was great and the defense played well as a unit limiting the Bills. The Bills had 67 yards rushing on the day. B+

DL The run stopping was obviously good (67 yards rushing) and the pass rush was great most of the game. Too many penalties though. Suh is his usual monster and so was Wake. A

Secondary The pass defense survived, Maxwell was beat for a long TD but other than that they held their own. B+

Special teams A bad game. Horrible. Almost cost Miami the game. A blocked punt and a long punt return on a short punt. Too many penalties. Just a bad game. D-

Coaching That was their best game. Ajayi and the O-line led the way but the Dolphins looked solid all around. They looked like a different team than the team that played in the first month of the season. A




On the 1st of November, 1970, RB Mercury Morris, gained a Dolphin record of 302 combined yards. He ran 8 times for 89 yards, received 3 balls for 68 yards and returned 6 kicks for 145 yards.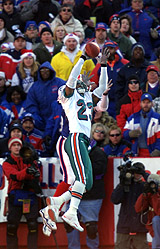 CB Patrick Surtain