Dolphins vs Bills home game Summary

9/27/15

Grading the Dolphins

QB Ryan Tannehill played one of his worst games as a Dolphin. It's true he did not have time to throw and when he did he was better but nevertheless it was a poor showing with 3 INT! Most of this numbers were racked up well after the game was over in garbage time. He finished 26 of 49 for 297 yards, 2 TDs and 3 INT. He somehow managed to play worse than the stats indicate. F

RB Lamar Miller and Jonas Gray were OK running but the pass blocking was just bad. Free Bills were running at Tannehill at will. The stats lie. They were all draw plays after the game was over in the second half (Gray 9 for 49 and Miller 7 for 38). Gray probably deserves a chance. He looked like he can break tackles much better than Williams or Miller. F

WR Matthews had another great game. He probably has more yards than Stills and Jennings combined. Parker should really be elevated to number 3 as Jennings and Stills aren't playing very well. If not for Matthews this would have been one of the worsts Dolphin games ever (and it probably still is). Matthews had his second 100 yard game of the year catching 6 passes for 113 yards and 2 TDs including a 46 yard TD that he improvised when Tannehill ran for his life and ran under the underthrown ball.
Landry had 8 for 67 yards but they are trying to force feed him the ball and it shows.
Parker caught 3 passes for 46 yards but they tried to throw him a TD in the endzone and he dropped it. The TEs were invisible as expected. Matthews gets an A all the rest get an F. So the avergae is.. D

OL The Dolphins O-line could not protect Tannehill, Free Bills were arriving to knock him down sometimes 2! at once. The run blocking wasn't much better (the 4th quarter doesn't count the Bills were in prevent defense all quarter). Holding penalties killed drives.
I just don't see why everybody thinks that Pouncey is so good when the middle of the line is awful. It can NOT be all the guards. Pro bowl is a lot to do with name recognition and it's not even his name... His brother is way better. I'm not saying he is not good but he certainly is not the best center in the league and he is paid as the best. F

LB The Bills runnig backs and WRs ran for 153 yards (including a 41 yard TD) with an average of 4.6 yards per attempt. Charles Clay had 82 yards on 5 receptions and a TD. That's just bad. F

DL Just awful. Another awful game. The D-line was pushed around in the first half (when there was still a game). The was absolutely ZERO pressure and the grand sack total was.... you guessed it - ZERO. Why in the hell will you take the starting D-linemen out on 3rd and short inside your 10 and put in the reserves ? Do the coaches realize it's Suh ??The rotation is awful also. It's true Wake is playing poorly but Vernon is worse. Contract year ? really ? F

Secondary The opposing quarterback was 21 of 29 for 277 yards and 3 TDs with no INT. You probably think it was Brady, Rigth ? Well... It was Tyrod Taylor.
That's right Tyrod Taylor killed the Dolphins (he did have a week to throw on every snap). He now joins the legendary Thad Lewis...
He also had gains of 39 and 38 (To Chris Hogan that did not make even the Dolphins roster a few years ago). Grimes wasn't tested much but the other side of Brice McCain was roasted. The desision to go with what they have on the other side doesn't look that good today... F

Special teams Thank god for Matt Darr! It's him (and Matthews) that prevented a straight F report card. Darr is a fine punter (4 for 47.3 yards average). Franks missed an extra point as if anything else could have gone wrong. Darr saves the grade. C

Coaching The Dolphins are awful. Somehow the coaches are worse. It's all on coaches. Just bad decisions. The rotation of the D-line, the bad play calling . I don't usually complain about play calls but an end around to the slow Landry on 3rd and 3 against the Bills defense ? REALLY ??? NOT running once with 4 tries to get in from the 2, I can go on...
Apparently the D-line looked good in practice because they are practicing against the Dolphins O-line...

Just awful.

It will take a miracle to save Miami's season the way they are playing it will be even harder for them to keep their jobs. They will probably have a job till the end of the season only because Ross is nice and there is no interim coach as they are all to blame

Disappointing is the under statement of the decade. F-!!!!!


On the 1st of November, 1970, RB Mercury Morris, gained a Dolphin record of 302 combined yards. He ran 8 times for 89 yards, received 3 balls for 68 yards and returned 6 kicks for 145 yards.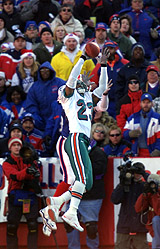 CB Patrick Surtain