Dolphins vs Bills home game Summary

13/11/14

Grading the Dolphins

QBRyan Tannehill played very well. He was efficient but did lose a fumble on a run. He mostly threw short passes in order to stop the Bills pass rush and did it very accurately. He finished 26 of 34 for 240 yards and 2 TDs without an INT for a rating of 114.8. B+

RB Lamar Miller was back, runnig for 86 yards on 15 attempts with a long of 33. Thomas added 23 on 5 carries. Damien Williams did not carry the ball but had a huge 32 yard catch for a first down on 3rd and very very long. B

WR Short and intermidiate passes resulted in a lot of Landry and Clay (5 catches each), Landry fumbled on a return but made up for it with a TD. Gibson also scored. Wallace had a huge and iffy PI called for him that helped the Dolphins put the game away. B

OL The Dolphins gave up 5 sacks, 3.5 to Mario Williams. The run blocking was OK. The Bills are a very good defense and have a great defensive front so it was somewhat expected. new LT rookie Jones is just GREAT. With all the so called experts calling him a reach he is proving them all wrong. C

LB They played a decent game against a bad offense. The Bills only managed 3 FGs and their TEs and RBs were a non factor. Jenkins is really playing well. B+

DL They could not get to Orton in the first half but they played better in the second half when the Dolphins had the lead and Buffalo was in an obvious passing situations. Vernon played well and got a sack, so did Mitchel. B+

Secondary Without Finnegan and losing Davis in mid game they played very well. Grimes made Watkins look invisible. Jamar Taylor also had a very good first career start. A-

Special teams Aside form the fumble, a good game for the special teams. Fields did not play that much was better. Sturgis kicked the ball well. C+

Coaching The Dolphins played well in the second half and made good adjustments during halftime. This was a very important division win. Now the Bills do not have a tie break advantage and Miami is still very mch in the hunt for a plyoff game. The Dolphins now have 10 days to prepare to a Broncos game where nobody beleives the Dolphins can win. A great win. B+




On the 1st of November, 1970, RB Mercury Morris, gained a Dolphin record of 302 combined yards. He ran 8 times for 89 yards, received 3 balls for 68 yards and returned 6 kicks for 145 yards.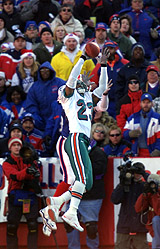 CB Patrick Surtain