Dolphins vs Bills game Summary

10/20/13

Grading the Dolphins

QBRyan Tannehill was awful. He pretty much gave the game away with bad mistakes. He now has 11 turnovers and only 9 TDs this season. He threw 2 awful INTs. One was returned for a TD and the other was inside the Bills redzone. His sack-fumble late in the game gave the Bills the FG they needed to win the game. Tannehill also had about half a minute to complete one 15 yard pass in order to give Miami a chance to win the game with a late FG and he cold not connect on 4 tries. Just an awful game all around. He finished 19 of 37 for 194 yards 3 TDs, 2 INTs and a fumble lost. D-

RB Daniel Thomas ran very well (12 carries for 60 yards)and Lamar Miller (9 carries for 43 yards) managed to break one long 30 yard run. They looked better running the football against the Bills but it did not help. The pass blocking could have been better. B-

WR A mediocre game. The WRs were OK but the (current injured) Bills are not a very good team, they really aren't. Gibson scored twice adn Wallace (5 catches for 76 yards) caught one 46 yard bomb from Tannehill that was iunderthrown as usuall. Clay caught only one pass for a 7 yard TD. B-

OL They gave up 2 sacks in the worst timing ever. Tyson Clabo was just pushed aside by Mario Williams and that play gave the game away. The reason they "only" gave up 2 sacks is because the Dolphins used a three step drop which pretty much admits they can not pass block. I would be very surprised if Clabo is not replaced soon. Clabo gave up 8 sacks in 7 games and no one keeps playing with those numbers. F

LB Ellerbe was injured and did not play. The LBs were average but consider those were the Bills they did not play very well. The Bills had 2 RBs playing on one foot and a practice squad QB and won on the road. Really. C-

DL Cam Wake was invisible. Vernon was OK. The D-line was not the reason for the loss but they are failing to generate enough pressure. C+

Secondary Thad Lewis was 21 of 32 for 202 yards. To be clear, Tahd Lewis was a practice squad QB two weeks ago. Imagine Pat Delvin wining a game in Buffalo. They were just to soft. D+

Special teams Sturgis missed a FG that could have been the difference in the game and Will Davis comitted a penalty that was essentially a 40 yard penalty. Thigpen gave the Dolphins a chance to win but Tannehill could not completee a pass in 4 tries. Ouch. C

Coaching Awful. Just awful. They had 2 weeks to prepare and get healthy for the easisest game on the schedule. The Bills are a bad team starting a practice squad QB and two injured RBs. They played an undrafted WR that was a first cut by the Dolphins last year, really. They came out and played very poorly, especially at the begining of the game. Why did they try to pass on that ill fated try at the end is questionable especially when the OL can not block anyone. Why is Tyson Clabo still starting ? They just looked unprepared and lost. F




On the 1st of November, 1970, RB Mercury Morris, gained a Dolphin record of 302 combined yards. He ran 8 times for 89 yards, received 3 balls for 68 yards and returned 6 kicks for 145 yards.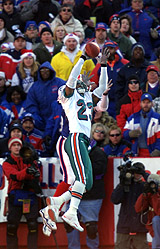 CB Patrick Surtain