Dolphins vs Bills home game Summary

12/19/10

Grading the Dolphins

QB Chad Henne completed 33 of 45 attempts for 276 yards,a TD and an INT. Sounds good, right ? Well, the numbers do not tell the story. The Dolphins were 0 for 4 in FGs leaving the team with only TDs and as you well know the Phins are not very good in getting to the endzone. Henne's numbers lie. He made two awful throws to end the game and both were completions... The Dolphins were on their 20 with 40 seconds to go and no timeouts needing a FG (i.e 50 yards). Henne completed a 7 yard pass to Bess OVER THE MIDDLE that wasted 20+seconds and then "hit" Ricky Williams for a ... (drum roll) 3 yard gain inbounds to end the game - three yards...Henne's longest completions ? 23 yard screen to Ricky. Chad "dump off pass" Henne did not lose the game by no strech of the imgination but he failed to lead the Dolphins to more then 14 points at home against a 3 win team. C

RB Ronnie and Ricky ran the ball 17 times for 58 yards (3.4 average)against a team that gave up 4.7 yards per carry coming into Sunday. Enough said. D

WR Brandon Marshall was back with 11 catches for 106, Bess caught 9 for 78 but no big gaines. B-

OL The run blocking was not very good, the pass blocking gave up 3 sacks... The offense scored only 14 points at home. How high of a grade can you really give them ? D+

LB The LBs were OK. Not spectacular but OK, Misi had a sack and Wake occupied 2 blockers most of the game. Dansby was his usual self and the Dolphins stopped the run game. B

DL This unit is carrying the Dolphins. McDaniel had a sack. You can not run at Paul Soliai - another good game for him. They really controlled the line even though they don't bring enough pressure. B+

Secondary Fitzpatrick was 16 of 26 for 223 yards an INT and two (very nice) TDs. He took shots and played good. The Dolphins could have picked at least another INT (was Sean Smith really a WR when he got to college ? really ?) C

Special teams Carpenter had his worst day as a Dolphin going 0 for 4 (should be 0 for 3 because one was a 61 yard attempt), Fields wasn't as good as last week even though he did have one 62 yard punt. The coverage units contained CJ Spiller. Carpenter really could have done better in his 2 misses from 48 yards. D-

Coaching I've said it all year the play calling is just awful. The Dolphins are playing not to lose. 2 minutes to go, a FG would tie it. Miami has a second and 9 at the Bills 31 yard line. They can throw the ball and try to convert a first down or have a 5-6 yard gain to try to make it 3rd and short (or a TD?) but what is the play call ??? a wildcat run ?!?! Excuse me ?? you knew it was at best a 3-4 yard play (it went for no gain) meaning they did not want to win the game they wanted to make it easier on Carpenter to tie it. They were thinking FG !! This is a home division game against a 3 win team! The last drive was a joke. Maqrino moved a team 80 yards in under 20 seconds but today's Dolphins ?? They had 40 seconds with no timeouts needing about 45-50 yards in order to kick a FG. The plays ?? A 7 yard pass to Bess INBOUNDS and a 3 (t-h-r-e-e !!!) yard pass to the RB INBOUNDS - result game over, season over. I can't see them beating Detroit, let alone New England. At least Buffalo moves down in the draft order... Awful game. F




On the 1st of November, 1970, RB Mercury Morris, gained a Dolphin record of 302 combined yards. He ran 8 times for 89 yards, received 3 balls for 68 yards and returned 6 kicks for 145 yards.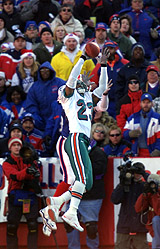 CB Patrick Surtain