Dolphins vs Ravens game Summary

12/4/16

Grading the Dolphins

QB Ryan Tannehill was awful. The numbers are 29 of 40 for 226 yards a TD and 3 INTs but he was worse than that. Just a bad game. They should have been shut out. F

RB The Dolphins were down so much so early that Ajayi did not have a chance to run the ball. He finished with 61 yards on 12 rushes and that's OK in this game. C

WR No separation, it was a bunch of bubble screens with ZERO opportunities to go deeper than 10 yards. Just a bad game. If Carroo doesn't catch a pass in this game when the entire second half is garbage time... D-

OL That was tough, The Dolphins could not run block very well and they quickly got into a pass only situation that did not help much. Steen and Bushrod were not very good. Tunsil also struggles with penaties. D-

LB By far the worst game of the year and one of the worst performances ever. The middle of the field was wide open and it was just a disaster. There is no excuse for that. F!!!

DL They could not get to Flaco and they were a part of the horrendous defensive performance. Just bad. F

Secondary Flaco completed more than 25 passes by halftime. Ouch. He finished 36 of 47 for 381 yards, 4 TDs and an INT. That's just bad. F

Special teams Does that really matter. Now we know why Gase didn't want to kick a 52 yarder last week... Franks is not having a very good year. D-

Coaching They just looked unprepared. It's one thing to lose to the Ravens but what the hell was that ? 38-6 doesn't tell the story it was much worse than that. The middle of the FG defense was just God-Awful. F!




On the 1st of November, 1970, RB Mercury Morris, gained a Dolphin record of 302 combined yards. He ran 8 times for 89 yards, received 3 balls for 68 yards and returned 6 kicks for 145 yards.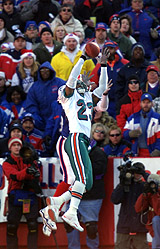 CB Patrick Surtain