Dolphins vs Ravens road game Summary

12/6/15

Grading the Dolphins

QB Ryan Tannehill had a bad game. He did not have Matthews and Landry was off. He did have a great pass to DeVante Parker for a 38 yard TD. Tannehill ended the game with only 9 completions on 19 passes for 86 yards and a TD. C-

RB Lamar Miller had a season high 20 carries and it resulted in 113 yards. He ran the ball well and carried the offense. Ajayi had 4 more carries as Miami's running game ended up with 137 yards on 26 carries (more than 5 yards a carry). B+

WR The Dolphins had 9 receptions as Miami scored only 7 points on offense. Landry had 2 catches for 5 yards. Parker is playing better with his opportunities and caught 3 passes for 63 yards including a magnificent 38 yard TD. It's pretty much a lost season for Parker but who knows, maybe next year he will get better, he certainly looked like a number 1 WR in that TD catch. C

OL The Dolphins O-line blocked well in the running game. They were also OK pass blocking but the Dolphins did not score and some of that is on the O-line. Tannehill was sacked once but got hit plenty of times. C+

LB The return of the starters helped. It also helped that the Ravens are pretty much playing backups all across their offense... Sheppard is playing better lately. 15 points given up is good no matter who lined up for the Ravens. B-

DL The Dolphins patched up MASH unit played well. Shelby had a pick 6. Suh is always solid. Vernon had 2.5 sacks, often in critical situations. Jordan Philips is playing well lately, batting down passes. A-

Secondary It helped Joe Flaco is injured. Matt Schaub showed why he is no longer a starter with a bad pick 6 to, of all people, DT Derrick Shelby. The secondary managed to play OK. Bobby McCain started and got some much needed experience. He was burnt at times but played a good game considering. Jones had his 4th INT of the year on a Jordan Philips tipped ball. Jones is a pro bowler and one of 2 players on defense the team must keep next year no matter who coaches this team. B+

Special teams Somehow they got lucky with penalties called on the Ravens and did below average on the return game. Darr is great. D+

Coaching Somehow the Dolphins won this game with no passing game. Miller was great and the defense dominated a banged up Ravens team. The Dolphins are now playing for next year and DeVante Parker sure made the next year notice. 2nd rounder Jordan Philips is also playing better and better. I think he will start next year alongside Suh. B-




On the 1st of November, 1970, RB Mercury Morris, gained a Dolphin record of 302 combined yards. He ran 8 times for 89 yards, received 3 balls for 68 yards and returned 6 kicks for 145 yards.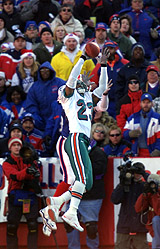 CB Patrick Surtain