Dolphins vs Ravens game Summary

12/7/14

Grading the Dolphins

QBRyan Tannehill did not play well for the second consecutive week. His numbers were OK, going 23 of 33 for 227 yards and a TD but he was constantly sacked (he is also responsible, not just the O-line) and scoring 13 points at home in the most important game of the year is just unaccpetable, no matter the mitigating circumstances.D+

RB Lamar Miller was average (12 for 53). The running game was non existent because of the situation and Miami's offensive game plan that called for more passes. C-

WR Again only short passes. You can not win in this league with inability to throw deep or at least a deep threat. It makes it harder to score when every drive needs to be a 10 play drive. Landry is now Miami's leading WR and he caught 6 balls for 55 yards, Wallace had 3 for 39 and Clay returned to play and had 2 catches. C-

OL The Dolphins O-line was exposed and it cost Miami the game. Since it was the game of the year... They gave up 6 sacks (3.5 for Dallas Thomas) and it's not like the run game was that effective. This team really really misses Brandon Albert as James can not play both tackle positions in the same play... F

LB Awful. The Ravens ran for 183 yards (That's 661 yards in three weeks!!!). You ca not win like that in the NFL. They were just vullied around by a stronger team. F

DL See LB comment + only 1 sack. 183 yards rushing, 661 in three weeks is unacceptable. Playoffs ??? If they play like this the rest of the way I don't think the team will get to 8 wins. F

Secondary Without Finnegan and Taylor the Dolphins were exposed. They really need one of them back. Delmas was injured and will probably miss the rest of the season in what apperared to be a knee injury (did anyone really count on 16 games of Delmas ?). They made a WR named Aiken a lot of money as he caught 6 balls for 65 more than his entire season leading up to the game. D+

Special teams The Dolphins did not lose because of special teams. Fields is officialy back to his old self and even Sturgis did his part. B

Coaching The Dolphins came into this game knowing it's basicallyu a win and you are almost in the playoff and a loss really finishes your season (anyone betting on a road win in New England ? really ??). They played an awful game that ended their season at home. It wasn't even close. They were just bullied. Outplayed both on offense and defense. This game could cost a lot of people. Very dissapointing as injuries begin to show while Miami is a good team, they really don't have depth. Why is Dallas Thomas still starting is curious. F




On the 1st of November, 1970, RB Mercury Morris, gained a Dolphin record of 302 combined yards. He ran 8 times for 89 yards, received 3 balls for 68 yards and returned 6 kicks for 145 yards.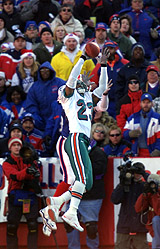 CB Patrick Surtain