Dolphins vs Ravens game Summary

10/6/13

Grading the Dolphins

QBRyan Tannehill was mediocre. He was awful to start the game and played better in the 4th quarter but he shouldn't have taken a sack that puts you out of FG range with a few seconds to go no matter what. He finished 21 of 40 (at least 4 drops on not so accurate but catchable balls) for 307 yards, 1 TD (to Clay), no INT but 6 sacks including the game killer. The offense scored only 16 points which is not good enough. C-

RB Runnig ? what's running ? The Dolphins ran 11 times for 22 yards. That's T-w-e-n-t-y t-w-o. 8 of them came on a run by Miller in the last seconds of the game. In the 4th quarter the team leader was Tannehill with 6 yards. That's how bad. D-

WR Not a very good game for the WRs. Wallace dropped at least two or three balls (He always out runs Tannehill). He did finish with 105 yards on 7 catches. Hartline had two great catches on the TD drive but other than that was way too quiet including a drop in the 4th. Gibson had one huge play for 40 yards but other than that was invisible. Miami's best offensive player is Charles Clay. Clay caught the TD and had a huge 45 yard play. He is playing very well so far this season. C+

OL LG Richie Incognito said that if they continue this way then they should all be fired. Well, they are playing even worse (apparently it is possible). Just awful. Martin, Jerry and Clabo were just pushed on Tannehill. Incognito wasn't mush better. As for run blocking - see RB grade. Awful. F

LB Ellerbe was unjured and Wheeler was OK. A lot of players were called to play with all the injuries. Misi was great, other than that they were OK. It helps that the Raven don't have Jimmy Graham playing for them... B-

DL Cam Wake was missed. Soliai and Starks played well and Jordan is getting better each week. Second good game for Vernon but still not a lot of sacks for the d-line. B

Secondary Patterson didn't play again, Caroll was injured and they gave up 3 plays of 40 yards and more and 2 PI penalties that covered about 50 yards. That's just too much. Jones did score on an INT but the ball was tipped by Dion Jordan. The Ravens don't have very good WRs and the only good one, Torrey Smith, played well.... B

Special teams Sturgis made a mistake when he kicked the ball out of bounds. He also missed badly on a 57 yard kick to tie the game. I think he would have made it from 52-3 yards before the Tannehill sack, Fields was his usual self but the coverage units weren't that sharp giving up some long returns. C-

Coaching This was a very winable game. Baltimore is not a very good team right now and a playoff aspiring team like Miami should win this kind of game at home. The offense was just so bad in the first 20 minutes and in the 3rd that they had a tough time coming back. The pass protection is just absurdly bad. D




On the 1st of November, 1970, RB Mercury Morris, gained a Dolphin record of 302 combined yards. He ran 8 times for 89 yards, received 3 balls for 68 yards and returned 6 kicks for 145 yards.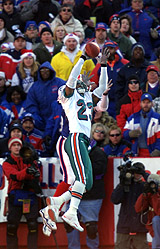 CB Patrick Surtain