Dolphins vs Ravens game Summary

11/7/10

Grading the Dolphins

QB Henne had a bad day. He threw 3 INTs and no TDs and led the team to only 1 TD in the openning drive. The Dolphins offense is just not getting it done and it's not the WRs this time. He only TRIED a pass longer than 20 yards in the air when the Dolphins needed 2 TDs late in the game and was the usual conservative. His final numbers 22 of 34 for 231 yards and 3 INTs. D-

RB The Dolphins abandoned their running game after Ronnie Brown had a great first series. They just did not run the ball basically the rest of the way. Of their last 33 plays only 7 (!) were runs and some of them were Henne scrambles when he couldn;t find a WR. Ronnie had 59 yards on 9 cariies (and a TD) and Ricky only carried the ball twice all day. No wonder the Dolphins lost. C+

WR Brandon Marshall was quiet catching 5 balls for only 30 yards. Hartline added 85 on 4 catchesand Bess also had an off day with 50 yards on 5 catches. Fasano had 3 catches and one crucial drop on the 3rd down. D

OL The Dolphins did not attempt to run the ball. The pass protection was OK but it was helped when the Dolphins kept RBs to help with the blocking and negating any chance they had for a big play down the field. Long had a rare penalty. Again 10 points is bad no matter how you look at it. The offense just can not get in the endzone. D

LB Dansby was great, all others were not so good, Wake had two sacks but not a lot of hurries and they just could not tackle Ray Rice (or McGahee)., it was jst awful tackling. Crowder "led" the weak play. Dansby "saves" the grade. D-

DL Yey another unit that could not stop Ray Rice. The Ravens ran for 146 yards and had many many 10+ yard plays. Only 1 sack to the D-line. They just could not get off the field. D

Secondary It looked as if Flaco mad any 3rd down throw he wanted. Sean Smith droped a sure pick 6 that could have changed the entire game. Davis also couldn't catch and he was burnt a few times, including by Derek Mason. Flaco's numbers 20/27 for 266 yards, 2 TDs and no INTs - ouch ! D

Special teams Every kick is still an adventure. Carool muffed a kickoff (this is not a mistake it wasn;t a punt, it was a kickoff) the ball was on his way out of the endzone when Hilliard caught it and went into the endzone. It was a few inches short of a safety in the kickoff return team - it was that awful. The Dolphins also gave up a first down on a fake punt that the sideline saw before the snap and tries to call a timeout. Carpenter's streak ended when he missed a kick. this is just not a very good unit and that is putting it mildly. D

Coaching The conservative calls continued. A million blockers prevented Henne from goind "deep" (I mean 30 yards deep not 60). By the time he took his first shot for a 20+ yard gain the Fins were down by 2 TDs. Just an awful game. The tackling and the fact that they could not stop Rice or McGahee were the worst. Baltimore finished the game with zero (Z-E-R-O) punts ZERO. The Dolphins just couldn't get them off the field. The 16 point advantage was a gift. The Dolphins were beaten in every aspect of the game by a better team, a much better team. D-




On the 1st of November, 1970, RB Mercury Morris, gained a Dolphin record of 302 combined yards. He ran 8 times for 89 yards, received 3 balls for 68 yards and returned 6 kicks for 145 yards.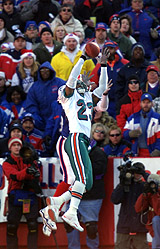 CB Patrick Surtain