Dolphins vs Steelers wildcard road playoff game Summary

1/8/17

Grading the Dolphins

QB Matt Moore's numbers look soild on paper (29/36, 289 yards, 1 TD, 1 INT), but he fumbled twice and threw an INT, The only TD was in garbage time and the offense did not score much. A tough game. He looked very good at times especially when throwing deep but he could not avoid the bug mistakes and the 3 turnovers. B-

RB The Steelers came in with one mission - stop Ajayi. Ajayi could not get anything going as he was met consistently by Steelers even before reaching the line. A below avergae game when the team needed it the most. Better luck next season. He finished with 16 carries for 33 yards... D+

WR Landry caught 11 passes for 102 yards and a score and Stills (5-82) and Parker (4-55) showed their big play ability. The Dolphins lack another TE. They could not get enough separation and at the end of the game the offense did not score much. C-

OL They could not open lanes for Ajayi and the pass blocking wasn't at its best. Even Albert made mistakes. This is a totally diffrent unit without Pouncey. They were OK at times but they just got tired at the end. Not a very good day for them as Ajayi was consistently met by Steelers before the line and Moore was hit countless times. D+

LB The Dolphins have bad LBs and that's not news. They could not stop the run as usual and Bell broke the Steelers franchise playoff record when he ran for 167 yards on 29 carries including 2 TDs. D

DL They could not pressure big Ben or stop the run. Even Suh was dominated at times by Steelers G De CAstro. Ouch... D

SecondaryAfter 5 minuted WR Antonio Brown had 2 scores of 62 and 50 yards, both of them on short routes and god awful attempt at tackles. They could not cover antone and the Pittsburgh pass offense threw at will. Just bad. It's hard to miss 3 starters out of 4. D-

Special teams A very solid day for the special teams unit. They converted a fake punt and Franks made 2 FGs in the Pittsburgh wind. They also returned a kick (Drake) to the Steelers side of the field. Grant fumbled another punt, it will be surprising to see Miami's patience with him if there is some left. A-

Coaching They did not look ready in the first quarter but to be honest they played a better team. Their injuries were just too much to get by. The game was awful and atg times embarassing but you can not forget the great season. C-




On the 1st of November, 1970, RB Mercury Morris, gained a Dolphin record of 302 combined yards. He ran 8 times for 89 yards, received 3 balls for 68 yards and returned 6 kicks for 145 yards.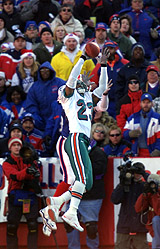 CB Patrick Surtain