Dolphins vs Jets road game Summary

12/17/16

Grading the Dolphins

QB Matt Moore started for the first time in 5 years and had a very good game against the bad Jets defense. He finished the game 12 of 18 for 236 yards 4 TDs and 1 INT. He threw deep as he always does and managed to connect on a 52 yard score to Stills and a 66 yard short pass that Landry took to the house. He aslo found Sims twice for scores. He missed on an open Parker and it resulted in an INT. A

RB The Dolphins runnig game is just not working without Pouncey. Ajayi did not have anywhere to run. He did finish with 51 yards putting him over 1000 for the year but he needed 19 carries to get there. The Dolphins failed to punch it in running 3 times from the 1. That could cost them in their must win game next week. D

WR A nice game for the WRs, quiet but nice. Landry had a 66 yard TD (3 for 108) and Stills had another TD on a 52 yard bomb (his 7th of the season). Parker was quiet with only 1 catch. Sims caught 2 TDs and is playing very well lately. B

OL Center is a problem. Steen was replaced by Urbick and nothing changed. He was routinely thrown into the backfield and the entire line is not run blocking very well. The pass blocking was much better. C

LB The Dolphins LB are a liability but they somehow manage to get by each week somehow. Kiko and Jenkins were back. They did not play that well and Miami's LBs looked average at best. Thank god for Mr. Suh but the Dolphins still can not stop the run. D+

DL Suh totaly dominated the Jets O-line and Wake had a great game (sack, fumble, INT). The Dolphins line is playing much better and they are keeping this defense from crumbling every week. It aslo helps to play the Jets. Amuch tougher test next week against the Bills in frigid Buffalo. A

Secondary Bryce Petty is not a very good QB. Xavier Howard was back and in good timing as Maxwell was injured at the begining of the game. Lippet had 2 INTs as the Dolphins cruised to victory. B

Special teams Wow. Another impactful game. Aikens blocked a punt, recovered and ran it back 11 yards for a TD. Can you ask for anything more ? We'll excuse Franks missed PAT. A

Coaching They got by with a short week and a backup QB that did not start for 5 years. They secured a winning season and are headed to Buffalo with a realistic shot at the playoffs. Isn't this good enough ? A




On the 1st of November, 1970, RB Mercury Morris, gained a Dolphin record of 302 combined yards. He ran 8 times for 89 yards, received 3 balls for 68 yards and returned 6 kicks for 145 yards.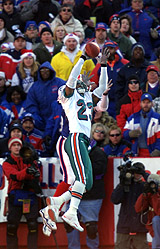 CB Patrick Surtain